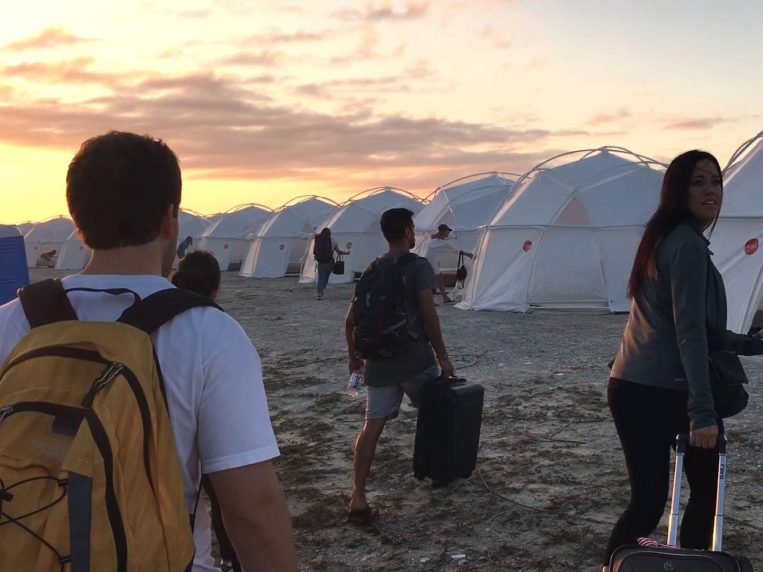 Yes, you heard correct, and no, this is not a joke.
A Fyre Fest-inspired pop-up is coming to Chicago! The iconic festival failure, hosted by entrepreneur Billy Farland and rapper Ja Rule, was promoted back in 2017 as the ultimate luxurious weekend getaway, crammed with supermodels, live performances, booze, and more. However, the results were something straight out of a disaster movie: tents, soaked mattresses, pathetic cheese sandwiches, and a mass wave of disappointment from festival-goers who paid thousands of dollars to attend. The event even went to foster two documentaries by both Netflix and Hulu.
And now the Fyre Fest has inspired a pop-up, recapturing the catastrophic debut with tropical decor: beach chairs, palm trees, sand, fire pits, and more. Other features include:
$50 rental VIP tents or villas
Gourmet cheese sandwiches
A Blink-182 cover band
Bahamian beers, fishbowl cocktails, and tiki drinks such as Ja's Bahama Mama, Pineapple Upside Down Martini, Frozen Rum Runner and etc.
Theme-oriented activities such as hot dogs roasts and treasure hunts
Sets from Dj Matt Roan, DJ Real Co, DJ Orville Cline
Admission for the pop-up is free, however, $20 express entry tickets are available for the opening night on May 3, which features a Fishbowl Cocktail and other additional perks. Hesitate to hand over that cash? So are we. Luckily, the event is coming to the credible, vintage bar Replay Lincoln Park ( 2833 North Sheffield Avenue) from Friday, May 3 – Saturday, May 19. So, it's worth the gamble.
Need a parking spot? We got you.
Featured Image Credit: Replay Lincoln Park