Over the past few weeks, we've been patiently waiting for the official start to Lollapalooza. This 4-day festival is all the talk on social media and we know that a lot of you are attending, but also, some of us have responsibilities. So if you don't feel like spending your hard earned money or just don't feel like joining the crowd of 100,000+ people at this iconic festival, you might be in luck. In mid-June, organizers revealed the schedule for Lollapalooza aftershows, with acts taking a break from the fest to take the stage at local music venues throughout the weekend and the days leading up to Lolla. 

This year's line-up is especially significant because it will mark the first time since last March that some of these venues in Chicago are welcoming guests back. A total of 13 Chicago music venues are hosting the aftershows, ranging from small clubs like Empty Bottle and Sleeping Village to larger concert halls like the Aragon and Thalia Hall. 
Highlights of the 2021 aftershow schedule include '80 rockers Journey at the Aragon, rapper Jack Harlow at the Vic, Limp Bizkit at Metro, Saint Jhn at Park West, Steve Aoki, Illenium AND Marshmellow at TAO, and Yellowclaw at Sound Bar. You'll also find a few local acts including singer-songwriter V.V. Lightbody, punk-rockers Sincere Engineer, synth-pop act Valebol, and garage-rocker Waltzer.
Even if you're not planning on attending Lollapalooza, the festival's aftershows can be a convenient and budget-friendly way to see some of your favorite acts in a more relaxed and intimate setting. Plus we're sure a lot of you don't want to be surrounded by thousands of sweaty people amidst an ever-changing pandemic. We think its a win-win. 
Take a look at the complete list of aftershows below and keep an eye out for last-minute additions. You can also find and purchase tickets to the aftershows here. And a cool thing is (and maybe I'm just figuring this out now) if an aftershow is already sold out, you can enter a raffle to win a pair of free tickets! So head on over and check out the site, and maybe you can go to the aftershows for free.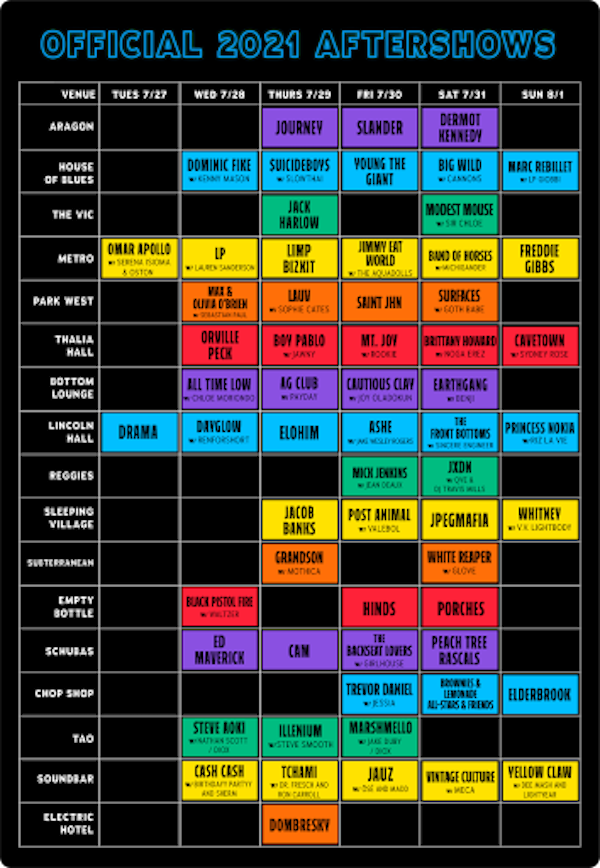 NEW: The official Lollapalooza Instagram account just announced a new aftershow happening at Subterranean featuring Paris, Texas and Kenny Mason.
Photo by Zachary Smith on Unsplash