Need Valentine's Day Plans?
Here's a statement you probably never thought you'd read: Free ziplining and hot chocolate will be offered in Millennium Park this weekend.
Yep, ziplining. In February. For Valentine's Day.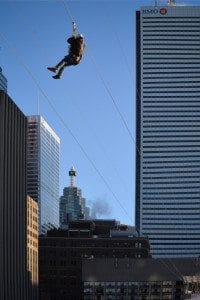 It's a bit out of the box to be sure. Taking a 200-foot zipline from a three-story tall platform and cruising on down to a warming tent isn't exactly everyone's idea of a romantic evening. Neither is interacting and taking photos with a baby alligator, but here we are.
The temporary event, "Escape Cold. Warm Your Heart," comes to us from Experience Kissimmee, a marketing initiative aimed at bringing more travel to (you guessed it) Kissimmee, Florida.
The marketers are offering free hot chocolate to help you escape the frigid outside temps. You can try your hand at winning free prizes and vacations or peruse their collection of Kissimmee-branded cold weather gear, if you're into that kind of thing.
The event takes place from 11 am to 5 pm Saturday through Monday at the Chase Promenade (right by the Bean).
Be sure to bundle up, as temperatures are expected to drop below freezing for much of the weekend.
Speaking of staying warm, you're encouraged to bring your new or "gently used" winter coats for the One Warm Coat Drop Zone. All of the donated items will be distributed locally.
Features: Ziplining, hot chocolate, contests, baby alligator meet & greet, and prizes
When: 11 am to 5 pm from Saturday (2/13) to Monday (2/15)
Where: Chase Promenade, Millennium Park
More Info: You can learn more at the event's Facebook group.