A gift that keeps on giving.
Chicagoans, get ready for the free adoption day, that'll change your life forever.
We all know that dogs are all things considered great (sorry cats). That is why PAWS is gifting you with the best friend everyone deserves. On March 23, from 11 am – 6 pm, and for one-day-only, adopt an adult dog for free! This special surprise is in support of their event  "A Chance to Bloom", which aids adults dog in finding a home once and for all. With PAWS being a no-kill-operation, this is a wonderful opportunity to welcome a new member to your family.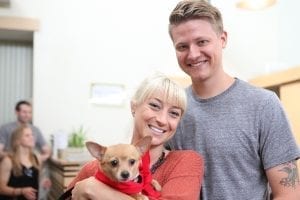 The free adoption day will be held at the Lincoln Park Adoption Center on 1997 North Clybourn Avenue. Though adoptions fees are waivered, the $100 training fee still applies. If that doesn't sell you, take a look at some precious dogs available for adoption this Saturday and hear their stories–I promise, you won't stop sobbing.
If getting a doggie isn't suitable for you right now, no worries! Be sure to sign up to volunteer, make a donation on their website, or even consider fostering a dog for temporarily. The regular price to adopt a dog usually cost around $400, so take this as a once in a lifetime opportunity!
Adoption Requirements
Must be at least 21 years of age
Have a U.S. government-issued photo ID, such as a driver's license or state ID
Verify that you are allowed to have a pet of the breed and size where you currently live
Be able to spend the time and resources necessary to provide the training, medical treatment and proper care for your pet
Bring along all family members (including children & resident dogs) to meet your new dog.
Be able to take the pet home on the day of adoption
Be available to spend up to an hour with an Adoption Counselor to discuss the responsibilities of owning a pet and more.
Spay or neuter any resident pets before you adopt. This is the most important thing you can do to help stop pet overpopulation, and also gives your pet many health and behavioral benefits!*
Featured Image Credit: PAWS Chicago