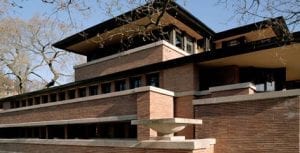 Admiring architecture with a cocktail in hand sounds like a great way to spend an after-work evening, if you ask us. Starting next month, you can do just that. Ditch your regular happy hour haunt and celebrate Frank Lloyd Wright, one of the most prolific American architects and interior designers in our history, by taking a tour of his most impressive historic landmarks, complimented with drinks, hors d'oeuvres, and live music.
The Emil Bach House and The Robie House, two renowned examples of Wright's prairie style movement, are hosting happy hours this fall. A happy hour event at the Emil Bach House will take place on Thursday, September 14 from 5:30pm – 7:30pm. Admission is $10 for Frank Lloyd Wright Trust members, and $15 for non-members. For a weekly affair, the After Hours series returns to The Robie House this October, taking place every Friday night from 5pm – 8pm. Admission is $30 for Frank Lloyd Wright Trust members, and $35 for non-members.
Much of Wright's work is featured throughout the Chicagoland area. The Robie House, built in 1909, is located at the corner of Woodlawn Avenue and 58th Street in Hyde Park. The Emil Bach House, built in 1915, is located in Rogers Park at 7415 North Sheridan Road.
To learn more about Frank Lloyd Wright and to book tours to visit more of his properties, visit Frank Lloyd Wright Trust.
Featured Image Credit: Emil Bach House