Son of a nutcracker!
If you've ever wondered why Buddy the Elf was so enthralled by his spaghetti breakfast creation, you can now get a taste for yourself at Miss Ricky's diner in the Loop.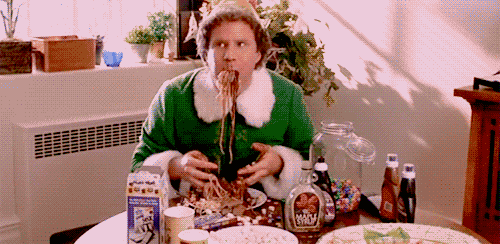 This year marks the 15th anniversary of the iconic Christmas classic, Elf, and Miss Ricky's wasn't going to miss out on that opportunity. You can now order this sugary monstrosity up through December 25 and post it all over the 'Gram before you dive in.
Elves like to stick to the four main food groups, of course: candy, candy canes, candy corn, and syrup. Wise words to live and eat by, as Executive Chef Moosah Reaume thought, too. His recreation of this famously sweet breakfast hits two of those.
Featuring a base of spaghetti drizzled with strawberry and raspberry sauce, the $15 dish tops it all off with marshmallows, S'mores Pop-Tarts, M&Ms, Oreos, Fruity Pebbles, coconut, syrup, and chocolate sauce. Sweet tooth satisfied.
Let us know if you can get past the first bite! It's bound to be even more sugary as it looks.
Miss Ricky's diner is located in the lobby of Chicago's Virgin Hotels, 203 N Wabash Ave.
Featured Image Credit: Miss Ricky's
[mkd_button size="huge" target="_self" icon_pack="" font_weight="" text="DOWNLOAD THE URBANMATTER APP TODAY!" link="urbanmatter.com/app" custom_class="lefttext"]