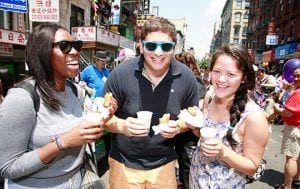 This Father's Day weekend, bring the whole family to the Museum at Eldridge Street in the Lower East Side/Chinatown neighborhood to celebrate the diverse community during the annual Egg Rolls, Egg Creams, and Empanadas Festival. This multicultural event is a fantastic way to experience Jewish, Chinese, and Puerto Rican tastes, sights, and sounds. With the focal point of the festival being the landmark Eldridge Street Synagogue, the entire neighborhood transforms into a mash-up of traditions for the day.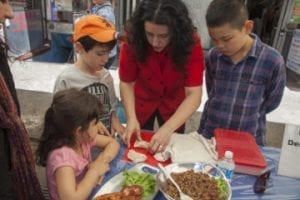 Enjoy authentic, freshly made egg rolls, egg creams, and empanadas. Watch captivating Puerto Rican mask makers, demonstrations by a Hebrew and Chinese scribe, and other folk artists. Learn how to make traditional foods like challah, dumplings, and empanadas during food demonstrations. And even partake in competitive games of mah jongg.
The experience is like no other as you stumble into another world, immersed in various cultures. This event is on its 17th year and has evolved over time. The event now includes Eldridge Street's Puerto Rican neighbors. Stepping onto Eldridge Street during this festival, you will feel a deep sense of pride for one of the most vibrant communities in the city.
About Eldridge Street and Lower East Side/Chinatown:
The Eldridge Street Synagogue is still a part-time house of worship for a small group of congregants. It also serves as a museum, one of New York's most magnificent historical hidden treasures. Walking down Eldridge Street, you are surrounded by dumpling shops and tiny markets that sell an array of fish, soy sauces, and dried food. The neighborhood itself has always been an immigrant community, but not always home to Chinatown. Once upon a time, the bright signs written in Chinese were once inscribed with Yiddish. When taking a closer look at some of the buildings, you will notice a faded Jewish star serving as a reminder that the building was once a synagogue.
Event information:
This action-packed event takes place on June 18th from 12pm – 4pm. General entry is free but food and drinks will be for purchase. For more information on the event, visit the event's website at http://www.eldridgestreet.org/event/egg-rolls-egg-creams-and-empanadas-festival/
Follow UrbanMatter New York on Facebook and Twitter for daily updates on local events and news.