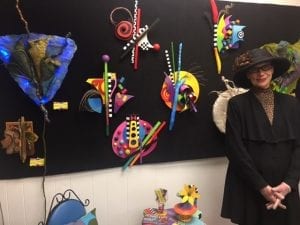 Rich in arts and culture, Eau Claire is destined to become the new hot spot for Midwesterners looking for a new place to "chill." Located in Western Wisconsin, Eau Claire is aptly named for the "clear waters" of the Eau Claire and Chippewa Rivers. This highly creative, innovative and collaborative town in the Chippewa Valley boasts an authentic can-do, independent spirit. Their motto is truly "everything is possible" and "there are no bad ideas" as evidenced by the exciting growth of the community. Whether you're looking for outdoor recreation, live jazz, new culinary interests or a vibrant music and arts scene, Eau Claire should become your go-to destination.
Arts and Crafts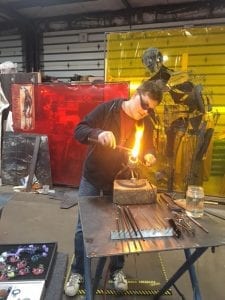 A prime example of collaboration is Artisan Forge Studios, a larger-than-life garage that houses a growing group of 24 artisans. These glassblowers, bead-makers, metalworkers, painters and more showcase and sell their beautiful work. Check out their calendar for upcoming classes and hands-on events.
What's Cool?
Head to Soul Brewed Coffee Roasters inside SHIFT (bicycle shop). Where else can you grab a great cup of locally-brewed craft coffee, while waiting for your bike to be fixed … or not! Look for their "Trike," the mobile cart that serves nitro, cold brew, and iced coffees at the Eau Claire Downtown Farmers Market, the Sounds Like Summer Concert Series, and Just Local Food's Open Air Market. You'll want to bring a few bags of coffee home, too.
It's All Happening Downtown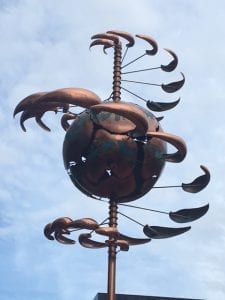 There is much to see and do downtown, including the Sculpture Tour, which reinforces Eau Claire's commitment to the arts. All of the sculptures are for sale, in case you fall in love with one. The Children's Museum of Eau Claire is fabulous and don't forget to visit the inflatable planetarium for a spectacular star show, lying on your back and looking up at the screen. The Local Store showcases an amazing collection of apparel, books, art, gifts and more, all produced by people in the Eau Claire community. Stop by Revival Records and look through their vast collection of albums, cassette tapes and more. The Micon Cinemas combine flicks and food, so enjoy a movie and dinner brought right to your seats.
Time to Play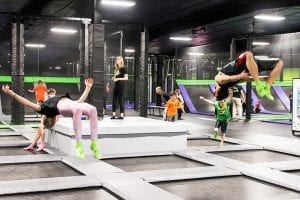 Stop by Lowe's Creek for their hiking trails and mountain biking with CORBA, an organization that assists with fat tire biking. Stop by Wagner's Lanes and The Complexx and learn how to play the newest game – KUBB, because Eau Claire is the KUBB capital of the world! Wagner's also offers bowling, sand volleyball and huge TV's to watch everyone's favorite sporting events. Check out The Edge on Lake Wissota for a delightful pontoon boat ride. For more fun, Metropolis Resort has it all…indoor water park, go-karts, laser tag, electric zipline, even aerobics on a trampoline!
Where to Dine like a Local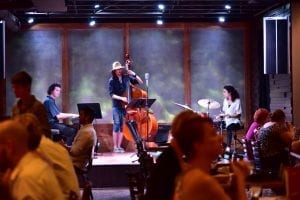 Houligans Steak and Seafood
A long-running tradition in Eau Claire, Houligans is known for its "meat and potatoes" menu, with items like Irish Whiskey Tenderloin Tips. But try the Pistachio Crusted Chicken Breast with Sour Cream Mashed Potatoes and you'll be in heaven.
Mona Lisa's
This is modern Italian cooking at its best. Opened in 1994, Chef Lisa's eclectic seasonal menu is dedicated to healthy food and well-being. Try her house-made Gnocchi with Brussel sprouts or Scallops. Salted Caramel Ice Cream for dessert is a winner.
The Lakely
Located inside The Oxbow Hotel, this great spot offers Midwestern comfort foods with a side of jazz. Enjoy a locally sourced farm-to-table menu with fabulous weekend brunch. The stage features local and touring musicians where the jazz runs hot and cool.
Where to Stay
Lismore Hotel
Newly renovated, the Lismore Hotel in the heart of downtown, is named after Eau Claire's sister city in Australia. This Double Tree by Hilton hotel features the Informalist restaurant, which serves a delicious farm-to-table menu out of an exhibition kitchen. Dive, the only rooftop bar in the city, has great views and classic cocktails, and ECDC coffee shop offers outstanding craft-roasted brews and a great place to relax.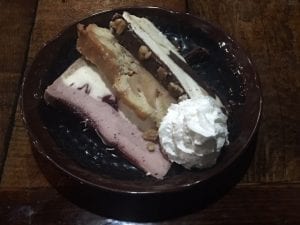 This dynamic new complex is a dream for adventure-seeking kayakers and canoers, blended with fine dining and Cowboy Jack's western atmosphere in neighboring Altoona. It's just one more example of two communities working together to create something truly outstanding. Head up to Eau Claire soon and see what our neighbors to the North have got going on!
For more information, www.visiteauclaire.com.