Sugary happiness by the mouthful.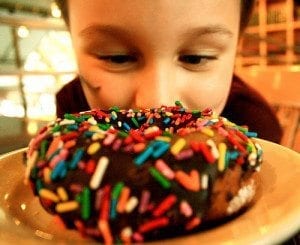 What happens when Chicago's top donut donors team up to bring their combined powdered, jelly-filled goodness to the public? Donut Fest (and ruined New Year's Resolutions).
January 31st marks the return of the city's third annual donut-themed event, which began in Chicago, but has now expanded to New York as well.
Here's what it's all about, straight from their official site:
"Donut Fest is a celebration of the love of fried sugary dough with a competition of yeast, batter-y, deep-fried treats.  The best restaurants and bakeries in each city submit their best cruller, ring or long-john and compete against each other with only one walking away with the coveted title of 'Best Donut.'"
Serving sizes are about ¼ of a donut. Attendees will be able to taste donuts from the following 15 shops across the city:
     

Star's Donuts & Coffee

     

Glazed and Infused

     

Scafuri Bakery

     

Gurnee Donuts

     

Beavers Coffee + Donuts

     

Firecakes

     

Doughnut Vault

     

Dat Donut

     

Chop Shop (Donut Fest Host)

     

Bread & Wine

     

Pleasant House Bakery

     

Bombobar

     

Bon Appetit

     

Two

     

GBD Cakes & Sweets
It's not just donuts, either. The following coffee & tea vendors will be in attendance to showcase the finest java & tea around.
     

Bowtruss Coffee Roasters

     

DAVIDsTEA

     

Dark Matter Coffee

     

Ipsento

     

Big Shoulders Coffee

     

Truebrew
Both donut and beverage vendors will have larger portions for sale. You'll get to have fun, jam out to music, and vote for your favorites. Proceeds will benefit Un86'd. General admission tickets are $35 and VIP tickets are $50. The event takes place from 9 am to 5 pm.
You can learn more at donutfest.com.