Take a hike along the beautiful 15-mile RiverWalk in Columbus, Georgia and you know you've arrived at someplace special. Surrounding you are magnificent trees and foliage on the winding Chattahoochee River. You'll see kayakers, whitewater rafters and those on stand-up paddleboards. Way up high, like 1,200 feet in the air, you see zipliners flying across the river, zipping from Columbus to Phenix City, Alabama and back. Wait, what? Further on down the river, you'll see historic buildings, a children's playground and museums.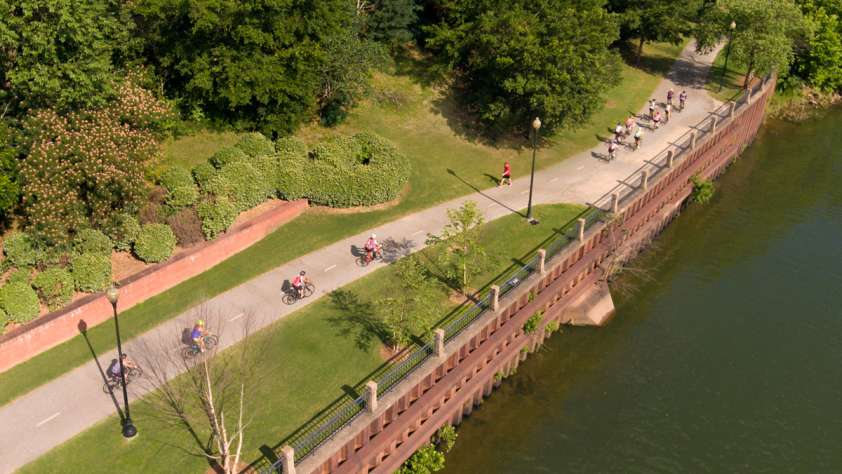 This is Columbus, Georgia, the second largest city in the state and home of Columbus State University. Located about 90 minutes from Atlanta, this laid-back destination aims to please students and visitors alike. You can feel its soul as it permeates the air.
This quaint college town offers a delightful getaway with a vibrant arts scene — music, theatre, opera, Art Walk and more. For thrilling water sports adventure, kayak or raft down the Chattahoochee River on the world's largest urban whitewater course called, "wild as the Colorado River, warm as Costa Rica."
Fort Benning, the 5th largest army base in the world, is about 20 minutes away.
Where to Stay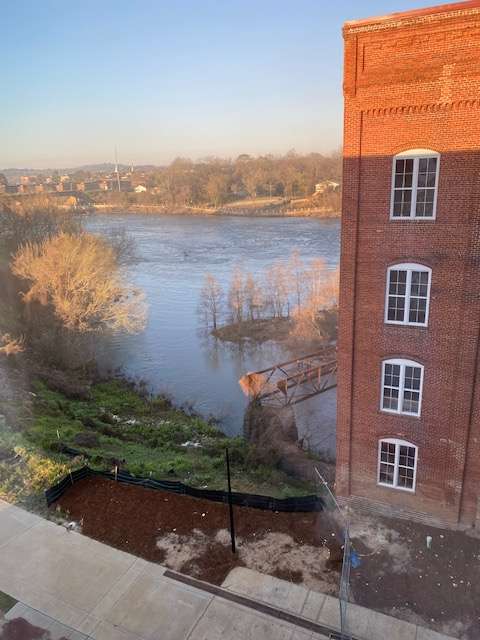 There's a lot of building going on in Columbus, including several new hotels like the Hampton Inn and A.C. Marriott. Our accommodations were at the spanking new City Mills, former home of the City Mills Company and now Columbus' first luxury boutique hotel. Overlooking the Chattahoochee River, the rooms are designed for a comfortable stay with all of the latest amenities. Check out their complimentary breakfast with artisan coffee and sweets from a local bakery.
Where to Eat
The Saltcellar, considered a Southern bliss restaurant, deliver a fine dining experience. I opted for the salmon with a bourbon glaze and Brussel sprouts. So fab. I watched as luscious sea scallops and sizzling ribeye steak passed in front of me for my group. We couldn't decide between the cheesecake or the coconut pie, so we went with both. Good decision.
Located in Uptown Columbus, Vertigo Fusion Kitchen fuses a variety of international cuisines with strong influence from Mexican culture. From sandwiches, burgers to rice bowls and salads, this place is way cool. Try their house Margaritas and Montezuma Mule. A great place to mix and mingle.
You'll think you've arrived in the Latin Quarter at Bodega 1205. This is where family, community and culture all blend together in one hip restaurant. Eggs, sandwiches, traditional Spanish egg pie, salad and Cuban food. Breakfast is served all day. Try the plantain nachos and yucca fries.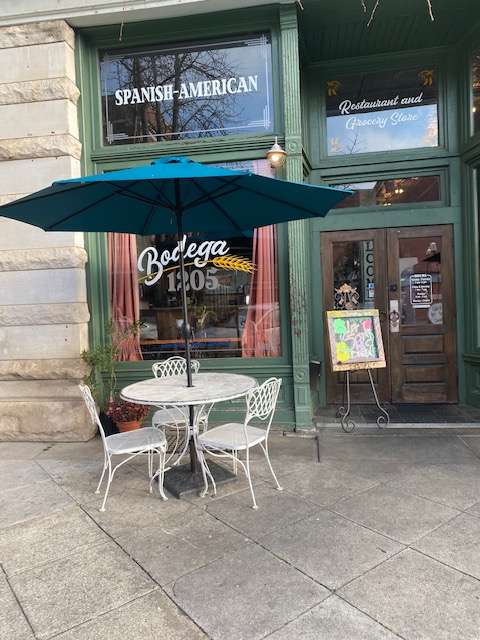 No trip to Columbus is complete without a stop at Dinglewood Pharmacy, a drugstore with an old-fashioned soda fountain. It's known for its famous Scrambled Hot Dog with the reddest hot dogs you've ever seen topped with onions, chili, oyster crackers and cheese. It looked as good as it tasted. And oh yeah, you can still fill your prescriptions here.
For spectacular sunsets, head to the top of Hotel Indigo rooftop bar for classic cocktails and appetizers. You can't beat the views!
What to Do
River Center for the Performing Arts is the focal point of the city with a full schedule of live theatre, musicals and other entertainment in this state-of-the art venue. The night I was in town I saw "Blue Man Group."  Check their website for the full itinerary.
On the grounds of Fort Benning lies the National Infantry Museum and Soldier Center. This was a sobering experience, learning more about the history of the military from the Revolutionary War until the present. Through interactive exhibits and galleries, I came away very impressed with all that the Armed Forces have accomplished in the name of freedom.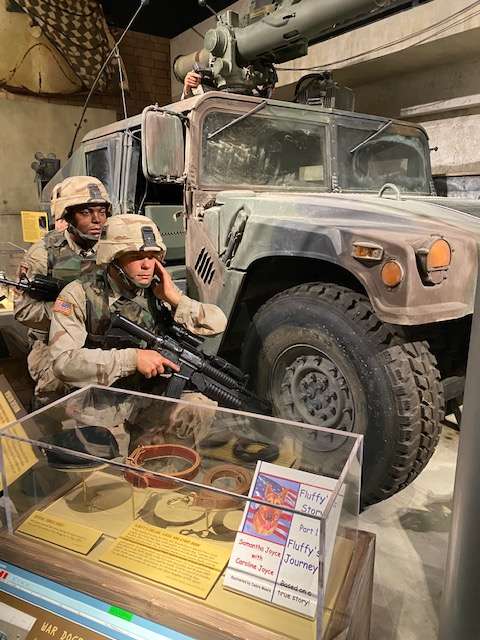 Author Carson McCullers is one of the most significant American writers of the 20th century. A novelist, short-story writer, playwright and poet who grew up in Columbus, Georgia, her most famous works include "The Heart is a Lonely Hunter," "Reflections in a Golden Eye," and "The Member of the Wedding." Today you can tour her home, which is also used to nurture young authors and musicians.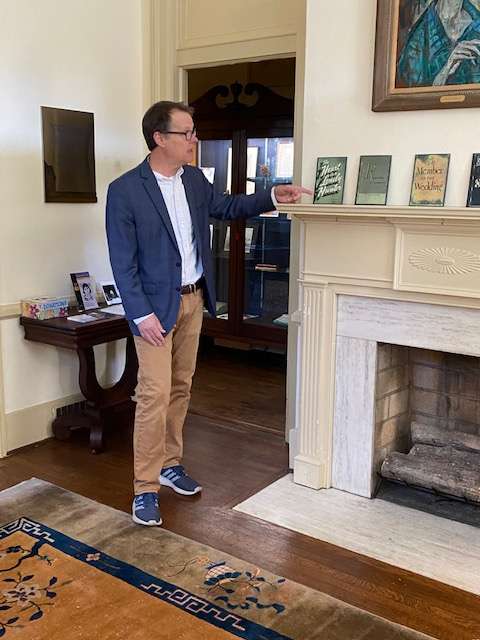 One of the most unique sites in America, the 7-acre Pasaquan is a don't miss. Home of eccentric artist and self-proclaimed guru, Eddie Owens Martin, (St. OEM) he turned his entire estate into a visual masterpiece. This fascinating, colorful patchwork of art blends African, Mexican and Native American symbols into murals, painted walls and ritual buildings. Listed on the National Registry of Historic Places, this site has been restored and maintained by Columbus State University.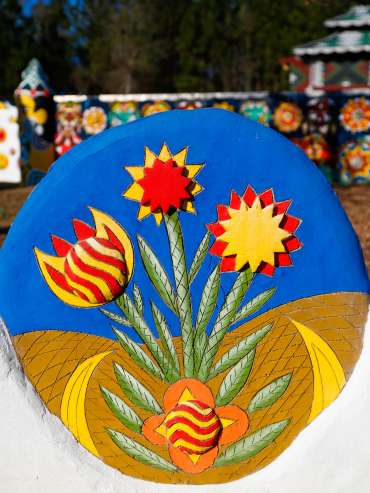 Artwork at Pasaquan. Photo by Mira Temkin.The Lunch Box Museum is the ultimate in kitschy fun. Take a trip down memory lane at this zany museum with over 3,000 different metal lunch boxes. Oooh and aah at your favorites from the 1951 Hopalong Cassidy model to 1970s favorites like Charlie's Angels and the rare 1980s E.T. box. Admire lots of other antiques and treasures from days gone by.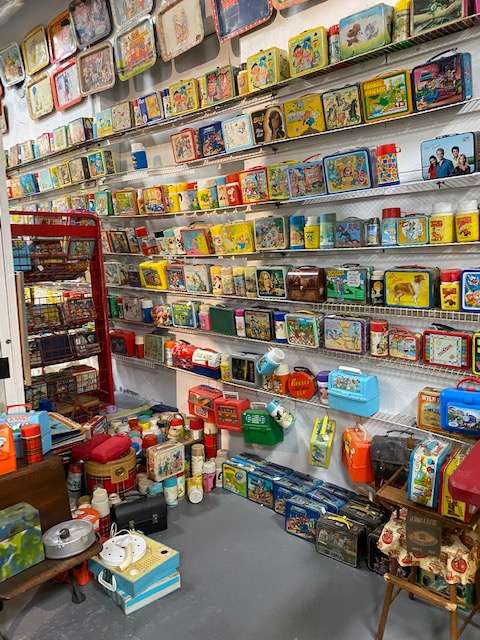 New in town is Fetch, a dog park that caters to humans with an AirStream coffee bar and more. Dogs run free and so do the adults. Framed by the soon to open Midcity Yards which is being developed and repurposed by Cotton Companies, the project will include a restaurant, bar and more.
For a destination that blends small town charm with gourmet dining, inspiring museums and thrilling outdoor adventure, look no further than Columbus. To learn more, contact Columbus Convention & Visitors Bureau, 800-999-1613.