Brooklyn's northernmost neighborhood often gets overshadowed by its rowdier and hipper neighbor to the south, Williamsburg. Greenpoint is a special oasis from the hustle and bustle, though, and its locals are proud and protective of their community. If you're new to the neighborhood or just looking to visit, here's a beginner's guide to Greenpoint.
Where to Eat in Greenpoint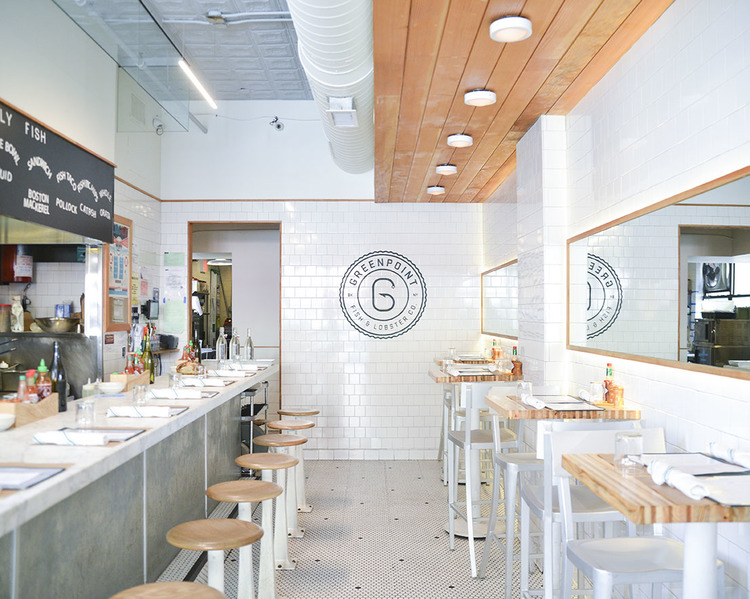 Paulie Gee's is hands down the best pizza in all of the city. This place gets packed though, so get there when it opens (which is 6pm on weekdays and 5pm on weekends), or be prepared to wait a few hours. Order a number of pies for the table so you can sample their delicious and inventive combinations. Don't leave without trying the Cherry Jones, because dried cherries and honey are surprisingly the perfect pizza toppings.
Half fishmonger, half restaurant, Greenpoint Fish & Lobster is one of the neighborhood's best culinary offerings. Their super fresh seafood is the best around. Hit up their oyster happy hour, as they always have a wide selection of both east coast and west coast varieties. And order a bowl of fish chowder and a lobster roll too!
Greenpoint is traditionally a Polish neighborhood, so you can't miss checking out local gems like Krolewskie Jadlo and Karczma. Feast on pierogies, kielbasa, borscht, and other classic Polish fare in one of these quaint restaurants.
This old school donut shop is worth waiting in the long lines that form on Saturday and Sunday mornings. Pick up a dozen to go or post up along the counter and cozy up to a donut ice cream sandwich. Yes, you can order a scoop of ice cream between two delicious donuts. Tina Fey once said in an interview, "The best doughnut? That's Peter Pan doughnuts in Brooklyn." And who would argue with the queen Tina Fey?
Sure, they have a few storefronts around the city now, and it's always exciting to stumble upon one of their cute pastel ice cream trucks. But their Greenpoint location is the original brick and mortar shop, and all of their flavors are made by hand in the neighborhood. The lines can get long in the summer, but it really is the best ice cream in all the city.
Where to Drink in Greenpoint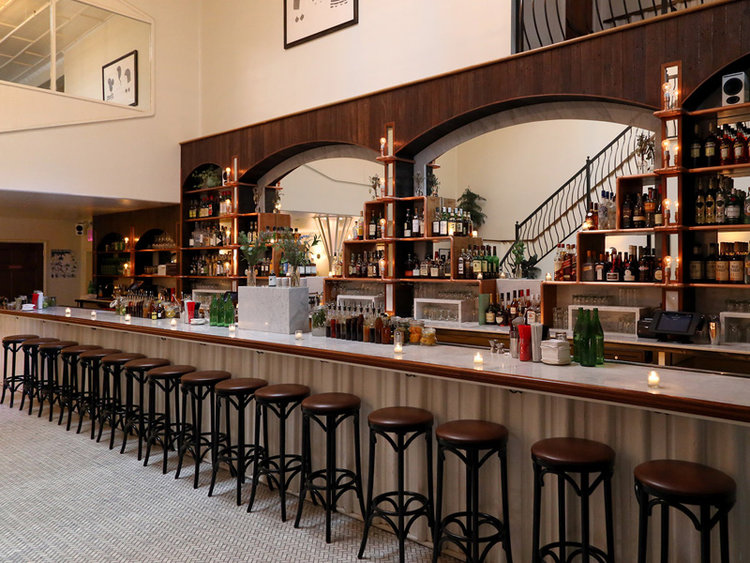 Ramona serves up delicious and interesting cocktails in a gorgeous setting. It stands out among the plethora of dive bars in Greenpoint and is the perfect spot for date night. Stop by for happy hour weekdays 5pm – 8pm for $7 Old Fashioneds and Sazeracs.
This whiskey bar is a hidden treasure. If whiskey isn't your thing, they have a great selection of craft beers on tap as well. The Moonlight Mile's laid back, cozy atmosphere and free jukebox can't be beaten. Yes, a free jukebox!
All gold everything. Gold booths, gold bar, goldfish. Goldie's is a great neighborhood joint drenched in gold decor. You come for the pool table and booze, and you stay for the free goldfish.
The Brooklyn Barge is the only waterfront bar nearby, and it boasts unbeatable views of the Manhattan skyline. A bar on a barge with a view. What more needs to be said?
Things to Do in Greenpoint
Go Shopping
Greenpoint has become a hub for antique lovers and vintage aficionados. Take a day to wander the tree-lined streets and pop in and out of the well-curated local stores. For the antiquing set looking for unique furniture and decor finds, check out Adaptations, Dobbin Street Co-op, RePop, Copper and Plaid, and You & Yours Fine Vintage. If shopping for vintage clothing is more your style, stop by  Mahps Vintage, Awoke Vintage, Walk the West, and Dusty Rose Vintage Warehouse. For newer wares, hit up In God We Trust, Wolves Within, Alter, Line & Label, and Pas Mal.
Relax by the Water
One of Greenpoint's hidden gems is Greenpoint Transmitter Park. It's a small park and pier tucked away at the end of Greenpoint Avenue, right on the banks of the East River. Spend an afternoon laying in the sun or sitting on the pier taking in the Manhattan skyline and watching the ferries go by.
Picnic in the Park
In addition to Greenpoint Transmitter Park, Greenpoint has two more gorgeous and verdant park spaces. McCarren is the larger of the two and is nestled between Greenpoint and Williamsburg. It has it all — grassy fields, tennis courts, playgrounds, baseball diamonds, a soccer field, a running track, and even an outdoor pool. Plus, there's a lovely little farmer's market every Saturday. Deeper into Greenpoint lies McGolrick Park. It's far more manicured than McCarren, with carefully laid out pathways and tall, shady trees everywhere. McGolrick is the perfect setting for an afternoon picnic with friends.
Follow UrbanMatter New York on Facebook and Twitter for daily updates on local events and news.