Chicago's damn great hot dog stand, Devil Dawgs, will open a new  location with a limited menu of fan favorites at 804 N. Rush St., a block west of the Magnificent Mile. The official opening is Thursday, November 18. To start, they will be open Tuesday thru Saturday for lunch only (11am-3pm), and operating hours will expand pending the city's staff shortage.
In the meantime, Devil Dawgs has added three new menu items at its Wicker Park restaurant, at 1431 N. Milwaukee Ave. They will also soon launch their newest Friend of the Devil menu collaboration with Chef Matthias Merges, at the Wicker Park location. More details to come on the Yusho-themed, Friend of the Devil collaboration.
As referenced above, the Devil Dawgs Gold Coast walk-in stand will offer a limited menu of fan favorite. You know, the delightful focus of Chicago classics made with premium ingredients. The all-beef Chicago style Big Dawg (spicy sausage), Chicago style hot dog, Bacon Cheddar Dog, and Vegan Dawg will share the spotlight with hand cut fries, five homemade milkshakes flavors, and the Original Cheese, Bacon Me Happy, and Chi-Town steak sliders.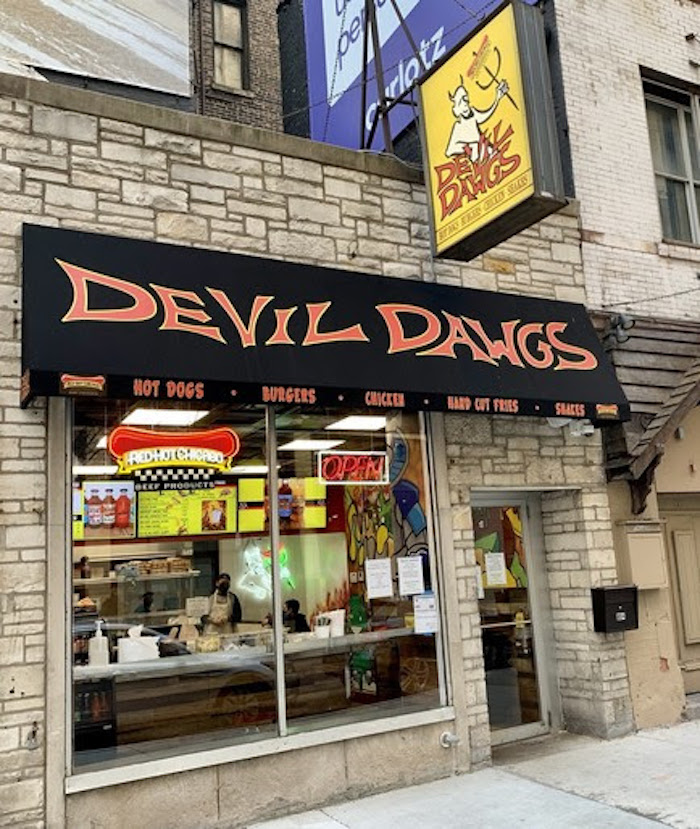 We've been following along closely since Devil Dawg's unfortunately closed their flagship Lincoln Park location last year. Their original goal was to open a new LP location by the summer of 2021. That hasn't happened, however, if there is a reasonable lease opportunity around DePaul University, ownership would certainly entertain the chance at reopening nearby. For now, the Gold Coast location will be fourth in the DD's family alongside South Loop, Lakeview, and Wicker Park. BUT that's not all…!
The Wicker Park location is introducing all new menu items, including a hot dog and two massive full-size burgers:
Icelandic Dawg, ¼ pound Spicy "Devil Dawg" Sausage, Dijon Mustard, Ketchup, Remoulade, Fried Maui Onion, Fried Shallot, Steamed Bun, $6.95
Old Fashion Burger, ½ pound Burger with House Sauce, Grilled Onion, Cheddar, Lettuce, Pickle, Flour-Dusted Potato Roll, $11.95
Beyond Burger, a plant-based complement to their popular Vegan Dawg, $12.95
For more information, and to order devilish delivery and pickup, visit their website. During the industry-wide labor shortage, days and hours of operation may vary at each location but rest assured that your favorite hot dogs, cheeseburgers, fries, and milkshakes will remain available throughout Chicago!
Devil Dawgs Locations
Gold Coast (opening Thursday)  | 804 N. Rush St., Chicago, IL 60611
South Loop | 767 S. State St., Chicago, IL 60605
Wicker Park | 1431 N. Milwaukee Ave., Chicago, IL 60622
Lakeview | 937 W. Belmont Ave., Chicago, IL 60657
Featured Image Credit: Trip Advisor