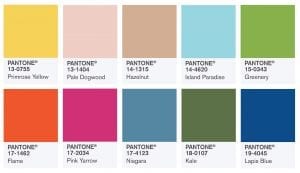 Have you ever looked in the closet or on the vanity and said aloud, "I don't have anything to wear?" Like many others in the city, wearing what's in fashion is important for blending in and socializing. If you're in a quandary about being in style, understanding seasonal color is your new mantra. What is seasonal color? It's a fab forecast of 10 colors officially announced before each season by PANTONE. Who and what is PANTONE? To understand how this brand can help turn around the fashion illiterate in less than 10 minutes, we reached out to the world's color authority, Leatrice Eiseman.
UM:  For someone who wishes to have seasonal guidance for color in their personal fashion, can the seasonal forecasts offer solid direction for wardrobe selection? 
LE:  Each season the Pantone Color Institute evaluates the colors shown by fashion designers in their collections at Fashion Week. This information is used to create The PANTONE® Fashion Color Report, which serves as a color reference throughout the season for fashion enthusiasts, reporters and retailers. It is a prediction based on observation of designer's color selections which reflect which colors will be popular throughout the season. It can definitely be relied on as a guide to stay on trend for the season.
UM:  The 2017 color of the year is Greenery. What does Greenery represent? How important is the color of the year in selecting fashion and cosmetic items? 
LE:  The more submerged people are in their own modern realities, the greater their innate craving to immerse themselves in the physical beauty and inherent unity of the natural world. This shift is reflected by the proliferation of all things expressive of Greenery in daily lives through urban planning, architecture, lifestyle and design choices globally. A constant on the periphery, Greenery is now being pulled to the forefront – it is an omnipresent hue around the world.
Greenery is nature's neutral. A great harmonizer merging undertones of cool blues with vibrant yellows, the hue is a natural complement to a wide range of palettes. Like the spectrum of possibilities in colorful petals and blooms paired with lush green leaves, plants and trees, Greenery provides a pop of color in accessories and footwear, or acts as a bold accent in a pattern. Prominent in fashion for men and women, as seen in the recent collections of Kenzo, Michael Kors, Zac Posen and Cynthia Rowley, Greenery has also been shown in a variety of solids and prints in children's wear. Greenery blends fashion and tech as well, as a prominent color for wearables and active wear.
UM:  How many colors are in an official seasonal forecast?  Does each color represent something special for each season?  How are the seasonal forecasts chosen season after season? 
LE:  There are 10 colors that make up each Fashion Color Report. The featured colors are culled from the PANTONE FASHION, HOME + INTERIORS Color System, the most widely used and recognized color standards system for fashion, textile, home and interior design. Each season the Pantone Color Institute evaluates the colors shown by fashion designers in their collections at New York Fashion Week and now London Fashion Week. Each color represents a trend that was seen on the runway and will likely continue to show itself over the course of the season.
Each season brings with it the opportunity to update wearables. Following PANTONE'S forecast can pull a wardrobe out of the no-go zone and bring it up to date. One of the fastest and affordable ways to fuse seasonal color into a busy lifestyle is by updating your basic pieces and cosmetic wardrobes. We found a wealth of seasonal color here in Chicago that will bring any personal collection up to date.
Where can you find fashion-forward seasonal wardrobe pieces? Connecting with fashion reflecting seasonal color is more accessible than you think. Here are a few simple staple pieces and where to find them, season to season.
Trench coat:  Old Navy State Street, Forever 21 on Michigan Avenue, H&M on Michigan Avenue, ZARA Michigan Avenue.
Pants and shirts:  H&M on Michigan Avenue, Macy's State Street, Barney's Gold Coast, KOHL'S Bucktown, American Eagle Michigan Avenue.
Makeup and cosmetics:  Blue Mercury Lincoln Park, Bloomingdales Michigan Avenue, Macy's on Michigan Avenue, SEPHORA, Michigan Avenue.
Images:  PANTONE, KOHLS.com, BlueMercury.com, Bloomingdales.com, SEPHORA.com, AmericanEagle.com.