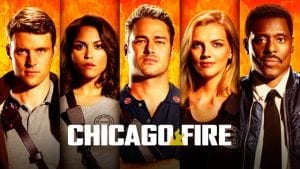 After winning the World Series in 2016 and living through the subsequent nonstop publicity, two Chicago Cubs players will get to experience a new kind of spotlight.
This Tuesday, May 16, World Series champions Jake Arrieta and Kris Bryant will guest star on the season five finale of NBC's Chicago Fire. The baseball players will get to put their acting skills to the test in an episode of the local TV drama that includes a scene of its characters going to a Cubs game, and in typical Chicago Fire fashion, heart-stopping thrills and action are sure to ensue.
In tandem with the airing of the season finale, actors David Eigenberg (who portrays Christopher Herrmann) and Christian Stolte (who portrays Randy McHolland) will conduct a Facebook Live Q&A session at Wrigley Field tomorrow night before the game against the Cincinnati Reds. Attendees of the game or those hanging out around the Field will also catch clips of Chicago Fire broadcasted at The Park at Wrigley, and if you're lucky, you might even catch the actors themselves strolling the Wrigleyville streets.
NBC's Chicago Fire has been renewed for its sixth season, alongside other dramas from Dick Wolf's Chicago television empire, including Chicago Med and Chicago PD.
Originally Reported by NBC Chicago; Featured Image Credit: MLB