As summer approaches, taking advantage of Chicago's outdoor activities and attractions is a must.
Crown Fountain is back and running, and it never fails to entertain as it continues to showcase authentic forms of art: the faces of real Chicagoans.
For those of you who haven't visited Crown Fountain, here's what you should know.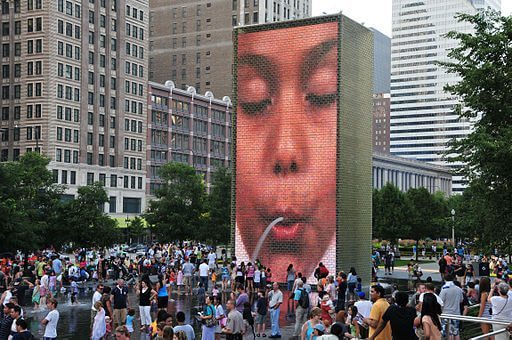 What is Crown Fountain?
According to the City of Chicago website, Crown Fountain is an interactive, double-sided, 50′ high fountain composed of two glass-brick towers with mixed media, including light, LED display, and water. It also contains a shallow 232′ long, black granite pool. It features about 1,000 real Chicagoans' faces.
What does it do?
During the day, it displays video of Chicagoans' faces. It shows a face for about fives minutes. Once they purse their lips, water streams from the face and showers those standing beneath it. Each face is computer-generated randomly. While transitioning between each face, the fountain turns black. At night, the fountain glows in various colors.
How were the faces chosen?
The featured faces are of people from various organizations and range from many different age groups

Location

Millennium Park | 201 E. Randolph St., Chicago (Between Michigan Ave and Columbus Ave)
Crown Fountain is located in Millennium Park among other famous art pieces including the Cloud Gate (better known as "The Bean") and the Boeing Galleries.
Hours
6 a.m.-11 p.m.
Admission
Free
Artist
Jaume Plensa
The Barcelona, Spain native is a world-renowned sculptor.  Plensa is known for his integrated sculptures including typical materials like glass, steel, bronze, and aluminum, as well as unique media including water, light, sound, and video. The City of Chicago's website also describes Plensa's works as pieces that include intricate energy and psychology and have the goal to evoke emotions and stimulate intellectual engagement. Plensa's works, especially Crown Fountain, encourages viewer participation.
The fountain was built by Kruech + Sexton and Crystal Fountains.
So, if you're looking for an interactive piece of art that can both entertain and cool you off, Crown Fountain is your next Chicago destination!
Learn more about Crown Fountain and other Millennium Park art and architecture here.
Share your favorite memories at Crown Fountain with us below!