Lately, Chicago has been called the largest portal for country music outside of Nashville.
MB Financial Park in Rosemont has created a summer concert series called Country In The Park. On Tuesday, August 11, 2015, Whiskey Jam was brought to Rosemont as part of the series. Originating in Nashville, Tennessee, Whiskey Jam is a laid-back, acoustic set up where songwriters gather to showcase their music to eager fans.
Whiskey Jam happens every Monday night at Winner's on Division in Nashville, but this Tuesday, Country In The Park brought Whiskey Jam alive in Chicago! Top Nashville songwriters such as Cole Taylor, Travis Denning, Jacob Powell, and Tyler Reeve joined host Josh Hoge for an intriguing blend of acoustic music ranging from their originals, to pop songs they've written for Meghan Trainor, to #1 country hits for Luke Bryan, to Texas country hits for Randy Rogers. It was a beautiful, 70 degree summer night filled with country music, laughter, and, of course, whiskey!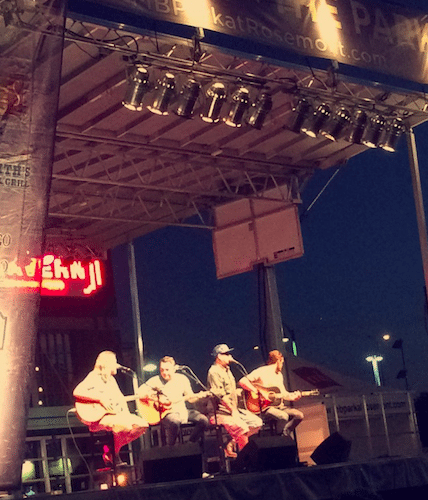 Country In The Park is held at MB Financial Park, which is outdoors, on an astroturf area surrounding the stage. There is plenty of room for kids to run and play, as well as picnic benches, and a bring your own chair and blanket policy. Though no outdoor food or beverages are permitted, there are plenty of alcoholic beverages available for adults in tents around the park. Surrounding the park are several restaurants including Toby Keith's I Love This Bar And Grill, Bogart's, and for the kids (or your own sweet tooth), there is the delicious candy and ice cream paradise that is Sugar Factory.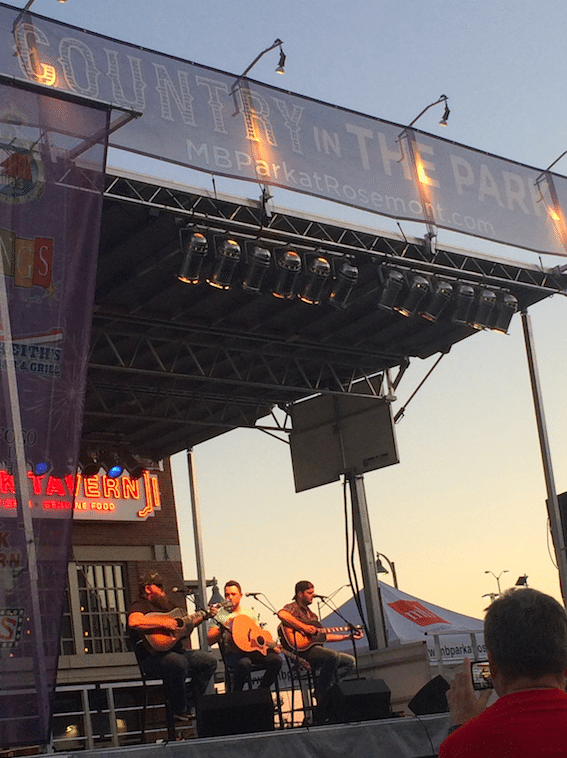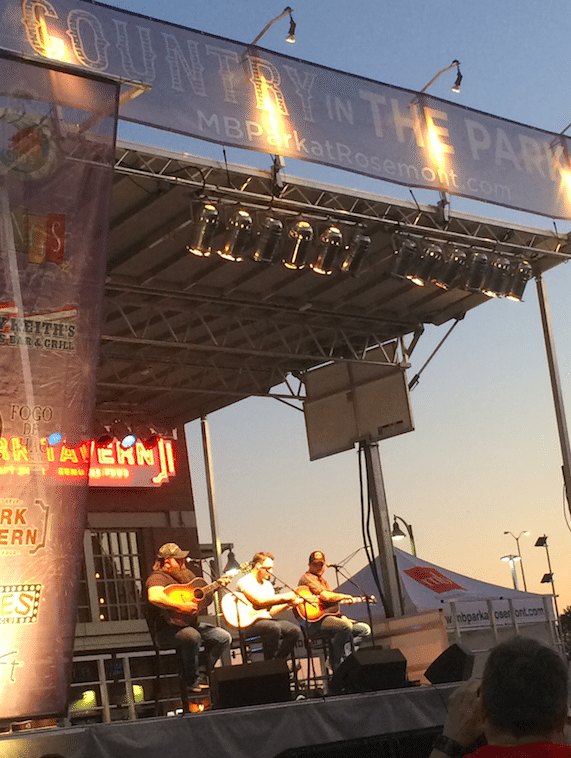 Country In The Park is a FREE event every Tuesday night over the summer through Sept. 1. Parking is also free if you bring your parking garage ticket to one of the vendors in the park for validation. Concerts begin at 7:00pm and end at 9:30pm.
I certainly hope that MB Financial Park continues to bring this series back in the coming years! Until then, you can catch the final three concerts of this current series, as follows:
Tuesday, August 18 – Mama Dear, Stella James
Tuesday, August 25 – Brynn Marie, Steven Lee Olsen
Tuesday, September 1 – Clayton Anderson, Adam Craig
Banner Photo Credit: Hyatt O'Hare via https://hyattohare.files.wordpress.com/