In light of last weekend's violence in Charlottesville, VA, the fear of a resurgence of divisive ideologies are at the fore of the public psyche, forcing Americans to open their eyes to controversial monuments in Chicago an in cities across the nation. Here are some of them:
5. Chetnik Monument of Drazo Mihajlovic in Third Lake, IL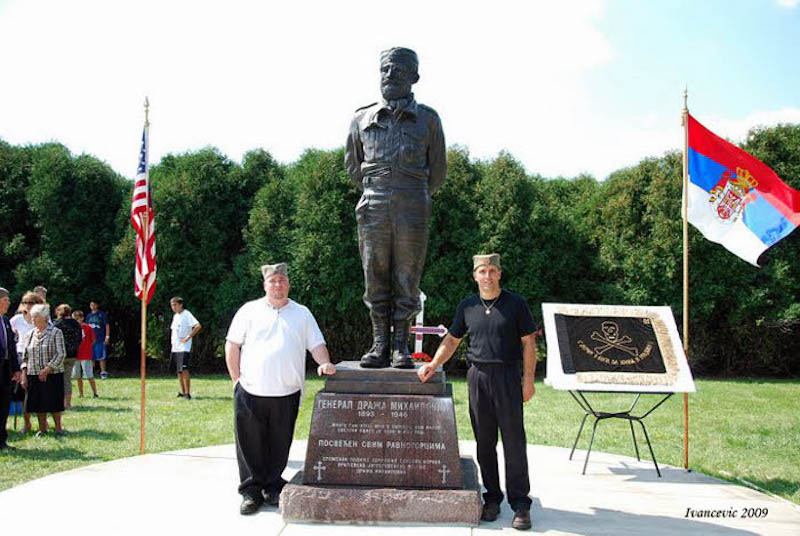 Even though it's an hour outside of the city, this monument is a hotly contested topic that we thought was worth including. This monument is in remembrance of Drazo Mihajlovic, who sought to create a Greater Serbia through ethnic cleansing during WWII perpetrated via his Chetnik ideology.
His tactics included massacres of Bosnian Muslim and Croat populations, destruction of property, and other terrorist acts to drive out all non-Serbs from the former Yugoslavia. He was later executed in 1946 for having "incited national and religious hatred and discord among the peoples of Yugoslavia, as a consequence of which his Chetnik bands carried out mass massacres of the Croat and Muslim as well as of the Serb population that did not accept the occupation." He is thought of as a martyr by some people of Serbian descent, who erected this monument on private grounds in 2009.
Mihajlovic had issues controlling his local commanders since they could not communicate via radio but relied on couriers. However, Mihajlovic was aware of the genocidal acts committed against civilians and did nothing to stop them. Some suspect that Mihajlovic was not aware, but historical documents seem to indicate otherwise.
According to Project Gutenberg, "Mihajlović was certainly aware of both the ideological goal of cleansing and of the violent acts taken to accomplish that goal. "
However, there is more than one side to the story. Mihajlović helped save 500 American airmen in Operation Halyard, one of the largest rescue operations behind enemy lines in WWII. He was awarded the Legion of Merit from President Truman for his actions.
EDIT: I have received some feedback from people in Chicago's Serbian community and I thought it apropos to add some facts to put this in more of a three-dimensional light. Forgive me, for history this complicated and contentious is hard to boil down into five pithy sentences. Thank you, Dr. Parker of Robert Morris University, for your input and sources.
Source: Project Gutenberg
Source: Tesla Memorial Society
4. Washington/Jackson Park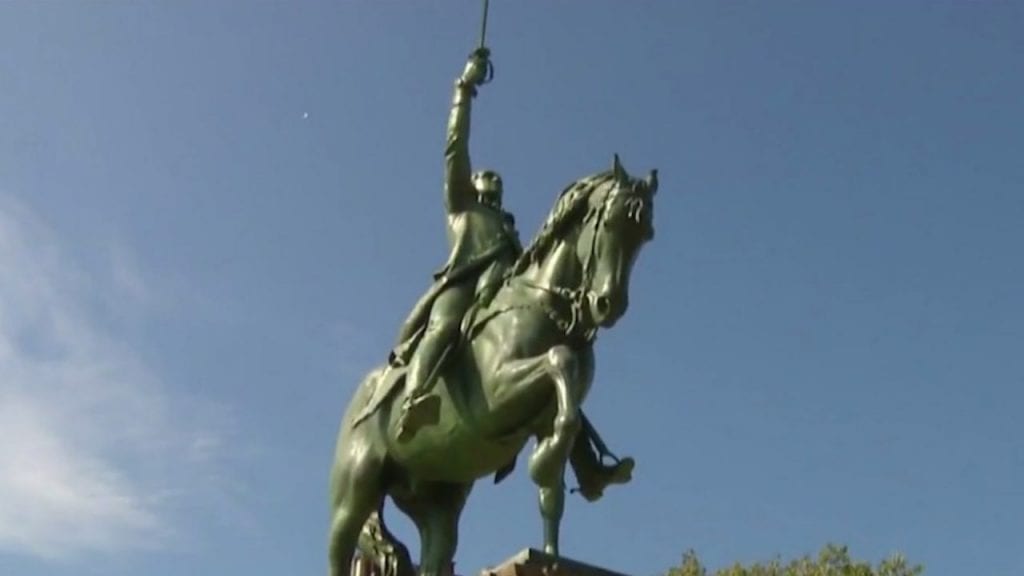 Bishop James Dukes of the Liberation Christian Center is seeking the removal of the statue of George Washington, as well as a new name for the South Side park. He does not feel that it's appropriate to have a memorial to a former slave owner in a predominantly black neighborhood. The bronze statue of Washington on horseback stands at the corner of 51st and King Drive at the northwest entrance to the park. President Jackson was also a slave owner. Dukes is willing to compromise on the names, saying the namesake for Washington Park could be former Mayor Harold Washington, and Jackson Park could be named after the Rev. Jesse Jackson or Michael Jackson.
3. Douglas Park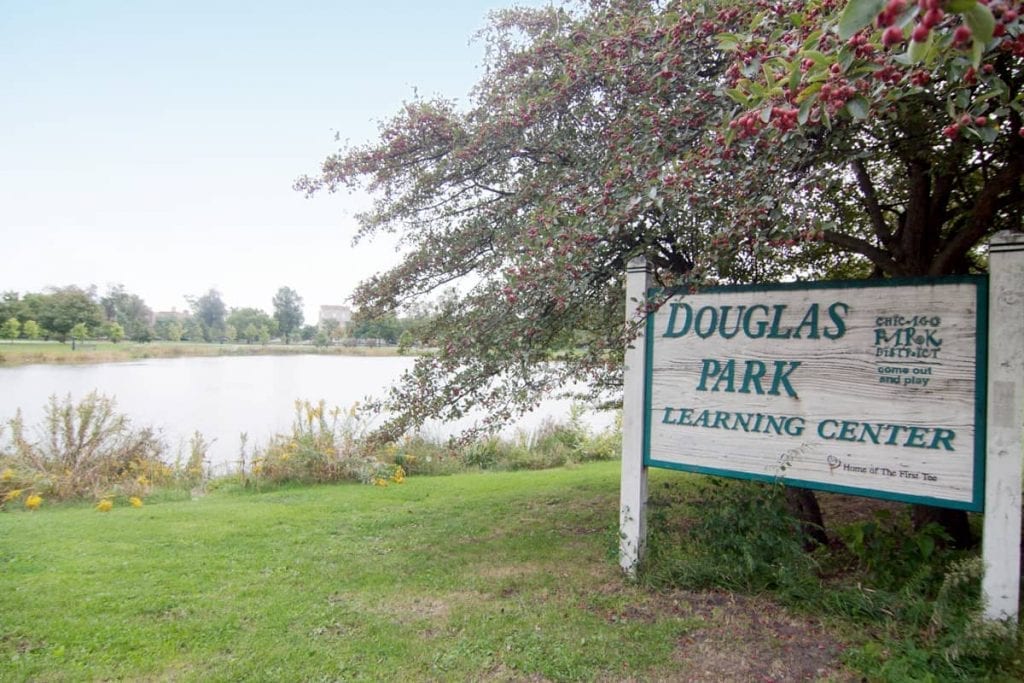 The idea to rename 'Douglas Park' to 'Douglass Park' was started by fifth graders who were debating about the name of one of Chicago's oldest parks. Stephen A. Douglas was an outspoken opponent to the outright abolishment of slavery in the US, defeating Abraham Lincoln in the 1858 senatorial race but losing the presidential election to him in 1860. Fredrick Douglass, on the other hand, was a former slave, abolitionist, and activist for racial equality. The idea has been debated since the '90s, but no definitive action has been taken.
2. Confederate Mound in Oak Woods Cemetery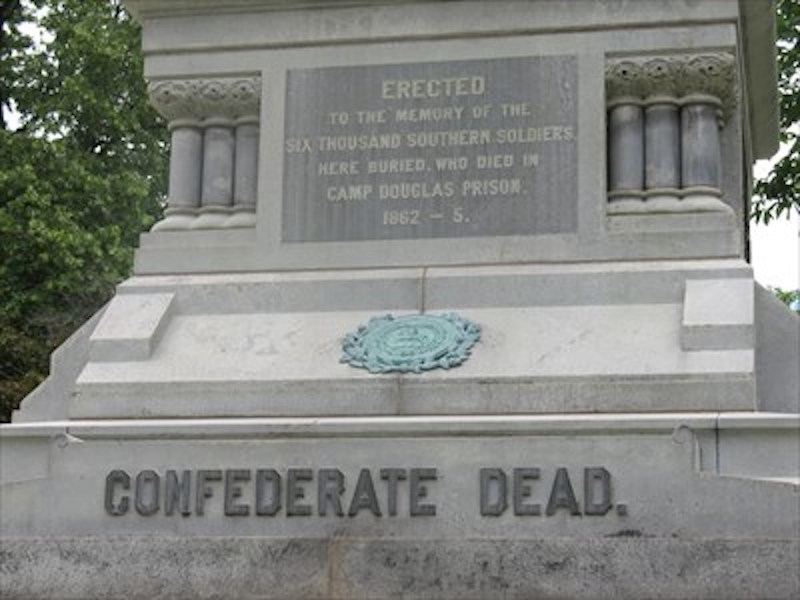 According to the National Park Service, the Confederate Mound, "marks a mass grave containing the remains of more than 4,000 Confederate prisoners, reinterred here from the grounds of the prison camp and the old Chicago City Cemetery." It is in fact among the largest Confederate monuments this side of the Mason-Dixon line. The cemetery is private, but recent events have sparked a new debate about whether or not it's appropriate to have a memorial for those who fought to maintain slavery.
1. Balbo Monument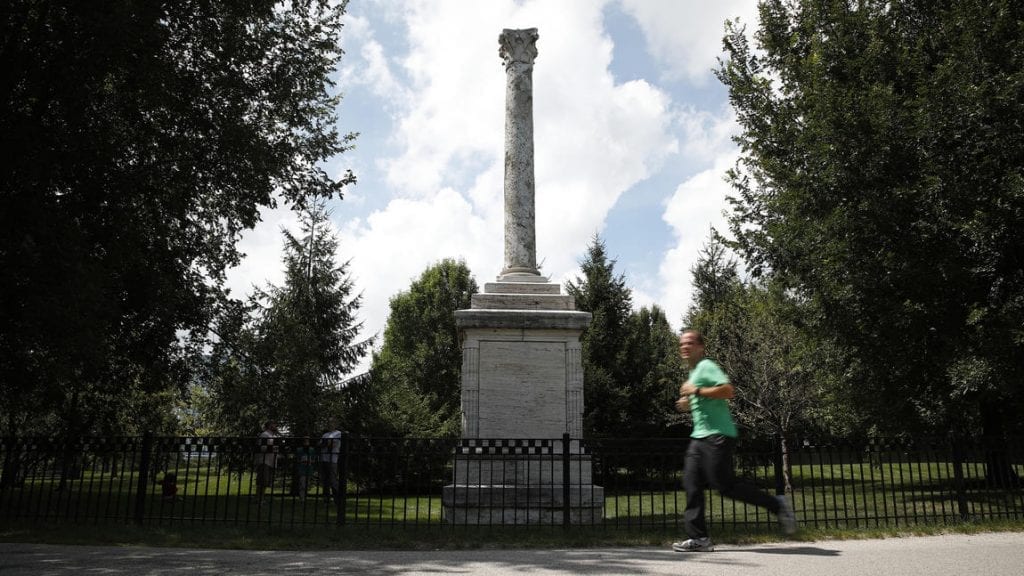 The Balbo Monument has stood for more than 80 years outside Soldier Field. It's a gift from fascist Italian dictator, Benito Mussolini, commemorating a trans-Atlantic flight of 24 seaplanes from Rome to Chicago in 1934. Italo Balbo was the lead aviator of the flight, who was integral to the rise of the Italian dictator and later a ruthless bombardier who lead the Italian bombing of unarmed Ethiopians during Italy's colonial conquests. Aldermen Edward Burke and Gilbert Villegas are leading the proposal to remove the monument and renaming the public street, while the public momentum is still present.