An apple (cider) a day keeps the doctor away.
It's sort of hard to believe that a city as large and vibrant as Chicago hasn't ever had a single bar dedicated specifically to cider, but it's the cold, hard truth.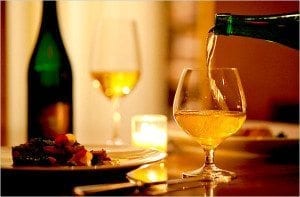 Until now, that is. The Northman, a bar featuring over 100 different hard ciders and a wide variety of food options, is FINALLY here. The opening was originally slated for February, then March 8th – failing to open on either of the projected dates. The bar somewhat sneakily opened this past Saturday, and early reviews seem to be nothing but positive.
Ciders have been selected primarily from Western European countries like England & France, though local cideries are also represented. Other options come from countries as far away as New Zealand. There are 18 ciders on draft and more than 80 by the bottle and can. More importantly to some, the bar also has a large selection of craft beer, wine, and spirits.
Taps behind the bar allow bartenders to perform a long pour from several feet away as a thin stream of cider trickles into the glass below. This process is meant to aerate the cider to produce more flavor.
The establishment comes from the creative geniuses behind Fountainhead, a somewhat eclectic Chicago staple that opened in 2009. Fountainhead's lead chef, Cleetus Friedman, was previously slated as the lead man on the Northman's menu, but he's since departed for another project. Instead, Sean Sanders, owner and executive chef of Browntrout has taken over in his stead. Dishes incorporate the same international element as the libations – while ingredients are largely drawn from local sources.
The Northman is located at 4337 N. Lincoln Ave in North Center, formerly the space occupied by Copper House.
We've been awaiting the official opening date for over a year now, and we're excited to finally see the bar in action. Check out the bar's Facebook page for updates and info from their grand opening.