As you walk into the Logan Theatre for the Chicago Underground Film Festival, there's an immediate feeling of intimacy. To the right is the lounge, where folks congregate in between films. This important to note, because it's one of the most interesting things you'll find at film festivals. Not only is it a place to view great films, it's a place where you can talk about the great films you've viewed and ones you wish you had.
How CUFF has maintained the true feeling of what it means to be an underground film fest for 24 years is pretty impressive, especially with how much they've changed in the past 24 years. In 1993, indie film was in the midst of a total resurgence. Over the years, indie film has seen so many changes, including an increased commercialization. So, that a festival can thrive and still remain true to its form is pretty remarkable.
The feeling of intimacy isn't limited to just the lobby and lounge, however. It extends into the films that were showcased. As CUFF would suggest, there's nothing commercial about these films. What you see is off-the-beaten-path, beautifully constructed works that showcase cinema in a unique light.
Here are just a few of the highlights from this year.
Drifting Toward the Crescent
Directed by Laura Stewart
83 Minutes
Chicago Premiere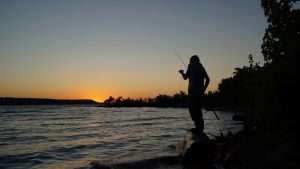 Drifting Towards the Crescent is about a town, and a moment and place in time, all the more critical after our recent election. It's about the heartland of the US and life on the Mississippi River. "Even though I don't make didactic films, all of the characters but two would not have a job were it not for foreign investment. It's about a place where the homes reflect the faded vestige of prosperity from the river's glory days, but those days have long since ebbed. This film is about lack of mobility within a relentlessly mobile society." – Laura Stewart; Director (Courtesy of CUFF.ORG)
Drifting Towards the Crescent is shot in a day-in-the-life sort of way. You see how these people live, how they interact with each other. Even as an opening night film, in a city that couldn't look farther from what is shown on screen, you cannot help but be taken by how these people live their day to day life, in a town that on the surface may not seem like it's thriving as much as it once had. But that would be false. What keeps the town thriving today isn't what had back in the 20th century. Today, it's the people that are keeping it alive.
All The Rage (Saved By Sarno)
Directed by Michael Galinsky, Suki Hawley, and David Beilinson
94 Minutes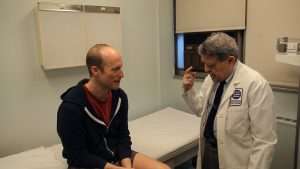 "Director Michael Galinsky's father read Dr. John Sarno's book "Healing Back Pain" in the 1980's and was miraculously cured of the chronic whiplash he suffered for years. The book, which connects pain with emotions rather than structural causes, put Sarno at blunt odds with the medical system. When Michael was immobilized by excruciating back pain, he experienced the power of Dr. Sarno's message and began a 12-year odyssey to make this personal narrative that weaves together his story of healing with the story of Dr. Sarno and his work. Though dismissed by peers, Sarno's work changed the lives of millions, including luminaries like Howard Stern and Larry David. Dr. Sarno radically predicted that the medical system's disregard for the true cause of chronic pain — repressed emotions — would lead to an epidemic. Unfortunately, he was right. Pain is the great health care cost in America by far. This artful and personal film braids Galinsky's universal story of pain and emotion together with the story of Dr. Sarno's work, connecting the audience to both the issues and the emotions at play." (Courtesy of CUFF.ORG)
All the Rage is an incredible tribute to Dr. Sarno. Dr. Sarno has spent his life advocating the connection of mind and body, and encouraging people to take seriously the idea of a potential back pain epidemic on the horizon. This film explores that, and just how deep that connection can run. At the screening of this film at the festival, there was clearly an air of understanding. People were unified by this idea that had for years been thoroughly dismissed by medical professionals. Though there is still so much work that must be done, this film does a remarkable job at bringing light to the issue. It's a film that simply has to be seen.
Mono Generation
4 Minutes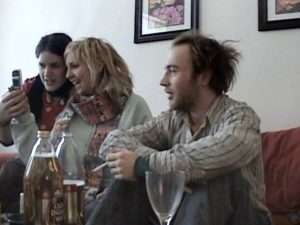 "In 2005, Lena Dunham starred in a film by Keil Troisi and A.W. Strouse. Endless problems plagued production—from the scatterbrained script to the cast's partying to Strouse's romance with Dunham. Now, this poetic short documentary reframes that footage into a commentary on celebrity, the War on Terror, and mononucleosis." (Courtesy of CUFF.ORG)
This is not only a case of utilizing and repurposing footage from a failed project, but it also gives you some great insight into a side of a celebrity that we don't typically get to see first hand. Usually we only get to hear about the formative years in reflection from a first-hand account. Here, we get to bare witness to it.
Whatever Happened to Gelitin
Directed by Angela Christlieb
82 Minutes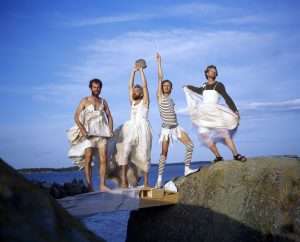 "Artist Liam Gillick hasn't seen them. Director John Waters has no idea where they are. Filmmaker Tony Conrad has his theories, but he's not saying. But whoever you ask, the fact remains, the four members of the Austrian artist group, Gelitin (Wolfgang Gantner, Ali Janka, Florian Reither, and Tobias Urban) have disappeared! So Salvatore Viviano, artist, art dealer, and occasional collaborator in Gelitin performances, sets off on a cinematic search for the funniest boy group in the world. With an imposing microphone in hand, he questions artists, gallerists and curators about the group's possible whereabouts." (Courtesy of CUFF.ORG)
Losing touch with someone is easy to do (albeit a bit harder in this day and age). But in the case of 'The Gelitin,' not only have they dropped off the face of the Earth, but no one seems to have any idea where they are. This film is a great piece of art in itself, through interviews and archive footage, you can see some of the art world's most mysterious people. Intertwined is the public outcry and daring acts that come with being a performance artist, always having to find new territory and ground to break. That's a lot harder than it seems. How can you top what has come before you, or even scarier, what you've already done? If anyone can answer this, surely it's the foursome known as 'The Gelitin.'
Man Life: The Last of the Lawsonians
Directed by Ryan Sarnowski
83 Minutes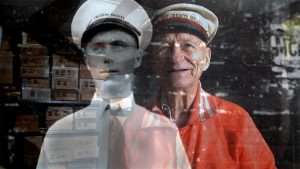 "At 90-years-old, Merle Hayden, the last member of the utopian movement Lawsonomy, crusades tirelessly to spread the gospel and preserve the legacy of his Commander, Alfred Lawson. Lawson invented the United States' first passenger airliner, but his company went bankrupt during the Great Depression. Dismayed by the economic policies at work, Lawson created the Direct Credits Society, a movement against what Lawson called "the one percent." The Society advocated for economic reform and "justice for everyone that harms no one." Thousands joined. Yet once the Depression ended, many members left Lawson and returned to gainful employment, but not Merle. Merle stuck with Lawson through the creation of the original University of Lawsonomy, where members enacted Lawson's spiritual ideas to become a "new species," the University's closure at the hands of the IRS, and its relocation to Sturtevant, Wisconsin. Nearly 60 years after Lawson's death, Merle continues disseminating Lawson's economic and religious writings hoping to find followers to carry on the work." (Courtesy of CUFF.ORG)
Man Life is a wonderfully universal tale, with Merle as our leader. It shows one man who, at 90, just doesn't quit. He keeps moving as if his life depends on it, because it does. In everything he does, there's an extraordinary amount of passion. And even to this day, at 97, Merle has not stopped going to the one place that he considers home every year: The Air Show in Oshkosh.
There are six CUFF Jury Awards, three CUFF Honorable Mentions, one Made in Chicago Award, and one Audience Award. Below are all of the official award-winning films.
CUFF Audience Award:
Man Life: The Last of the Lawsonians – by Ryan Sarnowski
Made In Chicago Award:
How to have your / own television show / (you already do) – by Jesse Malmed
CUFF Jury Awards:
INAATE/SE [it shines a certain way, to a certain place/ it flies. falls./] – by Adam and Zack Khalil
As Without So Within – by Manuela de Laborde
The Pink Egg – by Jim Trainor
Indefinite Pitch – by James N. Kienitz Wilkins
Steven Go Get Me a Switch – by Jared Buckhiester
See A Dog, Hear A Dog – by Jesse McLean
CUFF Honorable Mentions:
Ark – by Lynne Siefert
Sea With No Name – by Emi Linnakoski
Luna E Santur – by Joshua Gen Solondz
Featured Image Credit: Chicago Patterns