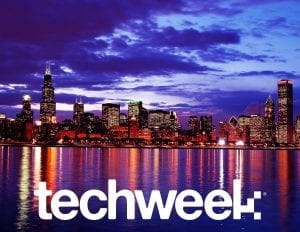 Check out the latest innovations and the hottest tech companies at Techweek, happening June 19 – 23. This year's week-long event hosts over 20 guest speakers from the top tech companies in the nation, a launch start-up competition, job fair, and tons of after-parties to network with fellow techies. Techweek was founded five years ago in Chicago to showcase the emerging start-up and tech community, allowing entrepreneurs and thought visionaries to display their work, as well as recruit new talent.
If you're at all interested in the Chicago start-up, entrepreneurial, and technology scene, then this is the place to be! Techweek was ranked as one of the Top 30 Conferences for Entrepreneurs in 2017 by Inc.com.
Where It's At
This monster of an event is located in the mecca of buildings in Chicago's River North, the Merchandise Mart. There will of course be a multitude of events held all over downtown as well throughout the week.
Entry Rules
There are three ticket options. Here is the breakdown:
Explorer Pass – Free
Community Events
Best Place to Work Showcase
Entrepreneur Pass – $65
Community Events
Best Place to Work Showcase
Kick-off party
Immersive Fest Events
Launch / Best Startup Showcase
Executive Pass – $325
Community Events
Best Place to Work Showcase
Kick-off party
Immersive Fest Events
Launch / Best Startup Showcase
Growth Summit
What To Do
Depending on what pass you choose to purchase, the best thing to do is network with other entrepreneurs and to check out the latest tech companies in Chicago. The Growth Summit gives investors a chance to learn from other tech leaders, giving them an in-depth look into up-and-coming companies. Launch allows you to see new companies pitch their business, to learn about different business-models, and to see what's hot in the local tech scene. And if you're in need of a job, some of the best tech companies will be recruiting fresh talent at the Best Place to Work Showcase. Also, take advantage of the events at Techweeks' partners headquarters, such MillersCoors and 1871. The after-hours parties are always fun and a great way to connect with people in the Chicago tech scene.
What To Wear
For this type of event, since you never know who you'll run into (be it a Pritzker, the mayor, or Jenny McCarthy–not even kidding on that one), dress business casual, and save your shorts and flip-flops for North Avenue Beach. We recommend a pair of flats to keep in your purse for ladies who plan to wear heels, because this tends to be an all-day-into-the-late-evening event, and you shouldn't have to worry about blisters. Classy, yet professional, would be your best bet.
Timeframes
Check out the site for a complete schedule of events, as some are TBA.
All Images Courtesy of Techweek