For Chicagoans, St. Patrick's Day is the time of the year where the usually murky river becomes a fluorescent green for a couple of days. The annual Chicago River dyeing is a celebrated tradition to commemorate St. Patrick's Day that's recognized throughout the nation.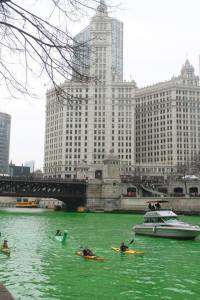 While numerous cities have tried to master their own green rivers, nothing compares to Chicago's.
There are families who take that tradition one step further and pass down the ritual of dyeing the river from generation to generation. The Chicago River dyeing is conducted by the Rowan and Butler families within the Chicago Journeymen Plumbers Local 130.
Jimmy Horath has been a part of the tradition since 1993 after marrying into the family.
"It's been a family tradition. It always seems like that's what we did on St. Pats," said Horath.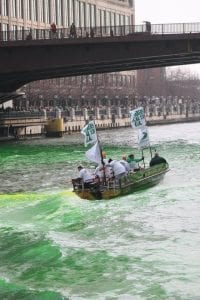 The families continuously celebrate St. Patrick's Day with over 20,000 of their closest friends surrounding the river and cheering on their loved ones. Horath explained tradition plays a large role in the atmosphere of the crowd.
"As soon as we start, they'll be screaming. It's like being at a rock concert."
The almost undescribed mass of onlookers is unlike anything else.
"Pretty much like you just hit a homerun at Sox park or you just walked on stage with Garth Brooks," Horath described the scene from the boat.
Although he wouldn't share the secret formula they pour into the river he guarantees it's completely safe and referred to it as "Leprechaun Dust."
Although when the dye is first poured, it appears as a bright orange and yellow as it hits the river, but don't be fooled, seconds later the river is a lime green that can last anywhere from five hours to four days.
If you've never celebrated St. Patrick's Day in Chicago, make sure to get yourself a spot along the river to see this special sea of lime green. You can find parking nearby at Chicago Parking Map.
Featured Image Credit: Emma Horath