A cocktail competition for the books.
Tullamore D.E.W. Irish Whiskey teamed up with Best Intentions to host the Tullamore D.E.W. Bar Stories competition. Best Intentions, recently named one of the best new bars of 2016 by Chicago Reader, is a chill, self-proclaimed "fancy cocktail bar" in Logan Square known for its vintage atmosphere and outstanding drink list.
A variety of talented Chicago mixologists came together on a Monday summer evening to compete for a winning title and trip to the Tullamore D.E.W. distillery in Ireland. Competitors included Gunnar Lindquist of Luxbar , Piers Smyth of ROOF on theWit, Ed Rey of Trenchermen, and Joyce Zwart of Rocks Lakeview, to name a few.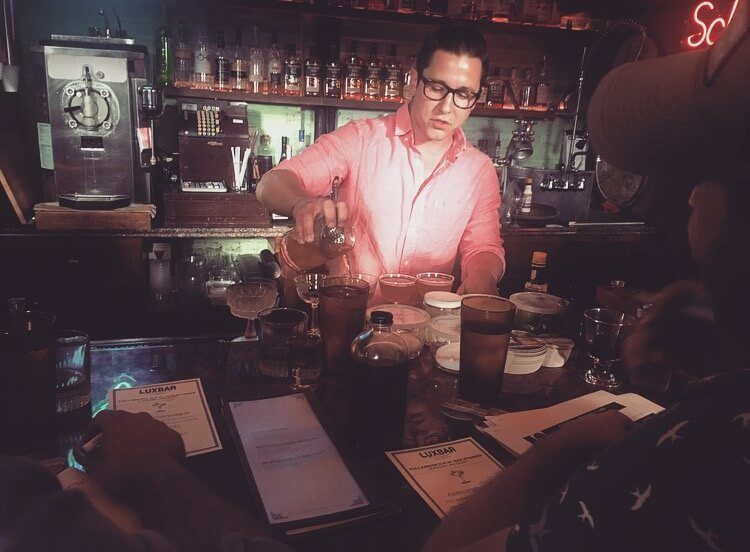 Three judges stood before the competitors: the national brand ambassador of Tullamore D.E.W., the President of USBG Chicago Chapter, and the previous year's champion of Bar Stories. The diverse group of nine bartenders each had eight minutes to get behind the bar and impress the judges with their cocktail, story, skill, and a celebratory toast. The challenge was to see "not only how good your work is, but how you are as a bartender." Therefore, judging was based 50% on the cocktail, and 50% on the quality of entertainment and interaction.
The bar was tightly packed with friends and fellow bartenders who came in for support, cocktail inspiration, and to mingle. Riverdance was playing on all the TV's as competitors shared stories of their backgrounds, hardships, travels, and jokes. Cocktails featured ranged from the "Asian Tortoise," a new take on the classic whiskey sour, to "Goddess' Dew," a concoction including Pimm's Blackberry & Elderflower and ginger beer. Once all the competitors finished behind the bar, there was a brief intermission for the judges to reach a decision and announce a winner.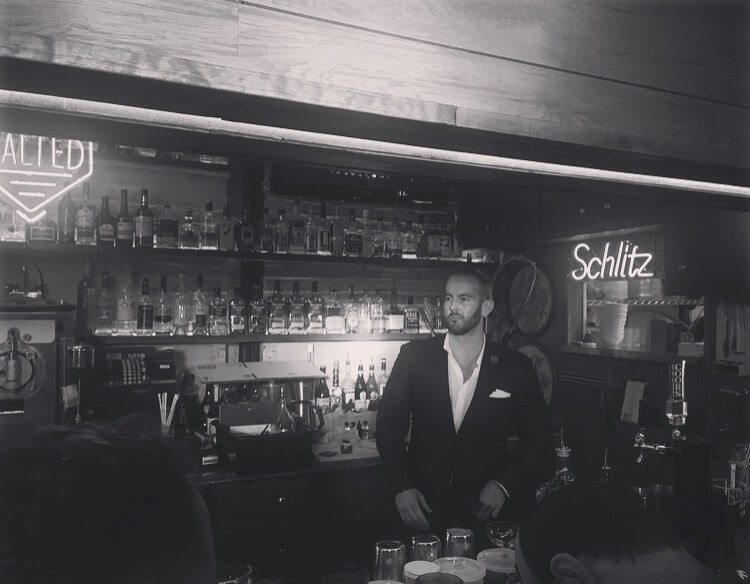 Piers Smyth of ROOF on theWit came in first place with his cocktail, the Weary Traveler. His story told the tales of his background in Ireland, as well as his folly from drinking habits. He had the crowd laughing as he joked, "You know you have a drinking problem when the bartender knows your name… but you've never been to that bar." Sounds like the perfect candidate for a trip to Ireland in the name of Irish Whiskey!
After the competition concluded, Tullamore D.E.W. Brand Ambassador, Andrew Degnan, was more than happy to answer some of our questions about bar life and trends in Chicago.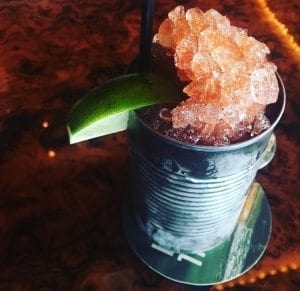 What do you think of the mixology scene in Chicago?
There aren't a lot of whiskey towns, but Chicago is. So it plays a huge part in the mixology scene. A lot of bars out here have amazing selections of whiskeys and bourbons, so that's interesting. The speakeasy vibe that many bars have here makes this town so unique.
What's special about Tullamore D.E.W.?
It's unique because it's a triple-blend that's triple distilled. We've only seen that in Ireland. It's distilled in a special cask that's different than most, so it's very smooth.
How important is a good story for a bartender?
Stories are important because you want to sit at a bar, relax, and connect with the people around you. It helps build trust. Wherever you're from, stories are a part of going out. Especially in Ireland, stories are a huge part of our culture. We sit around fires and we have legends that we pass down from generations. You see that in Chicago too, it's a town with a lot of history.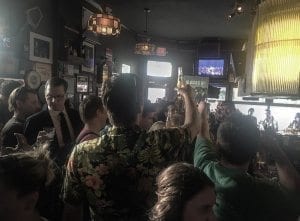 What do you like about a neighborhood bar like Best Intentions?
Neighborhood bars like this in Logan Square aren't pretentious, and they're always friendly. Sometimes downtown, you find that bars are more focused on staying up with trends, and they aren't always genuine. Here, anyone is welcome. Whether you're a businessman or a bartender or anything else. You can wear what you want and you can be who you want.
Visit Tullamore D.E.W. to find more info on the brand and some amazing recommended cocktails! Next time you're in Logan Square, stop by Best Intentions for a fancy drink in a welcoming atmosphere.