Watch the marathon this weekend on Sunday, October 9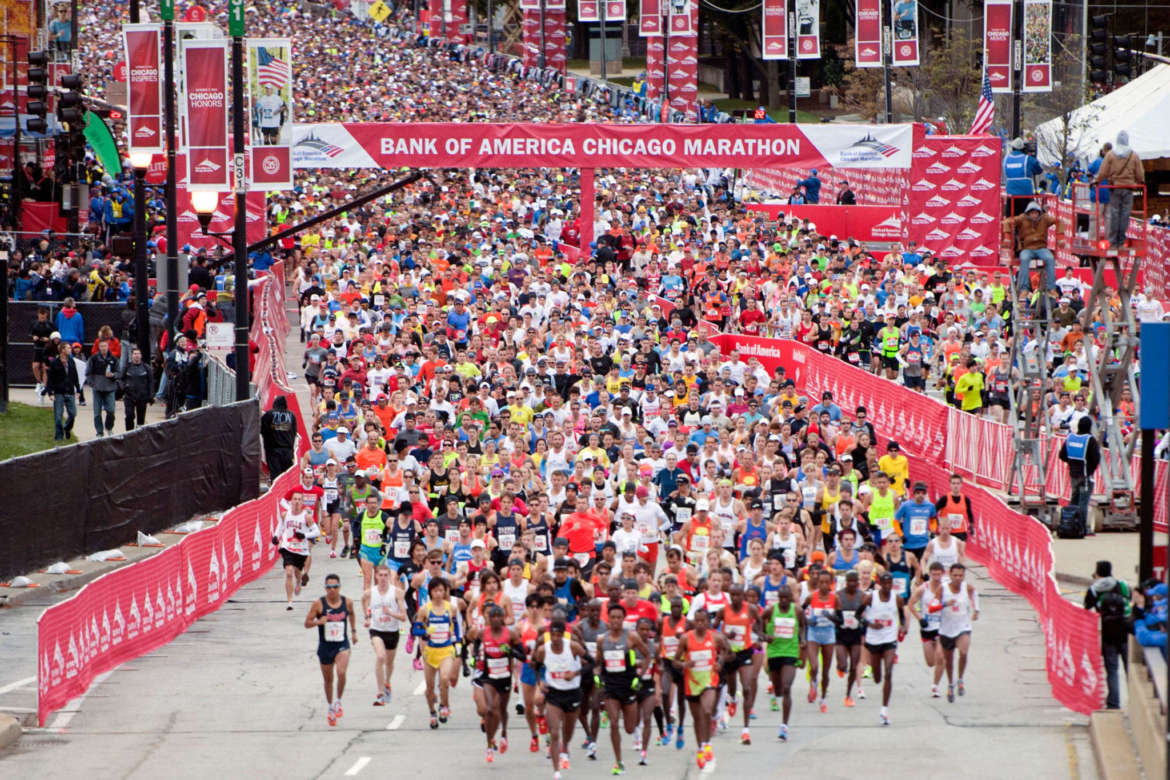 If you've ever participated in the Bank of America Chicago Marathon in Grant Park, one of the biggest marathons in the world, you know it can get a little chaotic. Since the Marathon began in 1977, participants have grown to more than 45,000 people. Seems overwhelming, but we put together a survival guide for participants AND spectators to make it a little easier for you to enjoy the day.
For a complete and more extensive list of Chicago Marathon information, please visit their website or observe their official participation guide.
Participant Information
Grant Park: Transportation and parking
We would recommend the use of public transportation to get to the start and finish areas in Grant Park. 45,000 people = crazy traffic of course. CTA and Metra train lines are adding extra service to accommodate participants and spectators for the marathon. Taking the Pink, Green, Orange, Purple or Brown Line train will get you to Adams/Wabash and then you can walk east toward Grant Park.
Security Checkpoints and Bag Screening
Before entering Grant Park, you'll need to go through security and bag screening. Make sure your event-issued bib number is visible on the front of your clothing in order to enter the park. Remember to arrive at the park early to give yourself enough time for these security checks.
Entrances and security checkpoints will be located at:
Jackson Drive and Michigan Avenue
Van Buren Street and Michigan Avenue
West-bound Congress Parkway and Michigan Avenue
East-bound Congress Parkway and Michigan Avenue
Harrison Street and Michigan Avenue
What should I bring?
Extra clothes (socks, sweatshirt, gloves etc.)
Remember, this is Chicago, people… it could rain at any moment
The park allows the use of these, but be weary as they may affect your performance
Aid Stations
20 aid stations are located along the course. Each aid station consists of:
Medical tent
Toilet facilities
Gatorade
Water
Public address announcer
Tracking
Runners can sign up to track live results. Or, download the marathon's mobile app.

Spectator Information
I want to cheer on a friend. Where do I go?
Bank of America Cheer Zones: The Mile 13 Cheer Zone is located near the halfway point on Monroe and Jefferson Streets. The Mile 26 Cheer Zone is located between Michigan Avenue and Roosevelt Road.
U.S. Trust Cheer Zone: Jefferson Street between Monroe and Adams Streets.
Merrill Lynch Cheer Zone:  Mile 16.5, just beyond the halfway mark
If you can't make it to the race, no worries! NBC 5 Chicago will have live TV coverage from 7am – 2:30pm and 670 The Score will provide live radio coverage from 6am – 10am.
Marathon Schedule
Friday, October 7
Abbott Health & Fitness Expo and packet pick-up
McCormick Place; Lakeside Center, Hall D
9am – 8pm
Saturday, October 8
International Chicago 5K
7:30am
Abbott Health & Fitness Expo and packet pick-up
McCormick Place; Lakeside Center, Hall D
9am – 6pm
Sunday, October 9
Bank of America Chicago Marathon
Grant Park, Chicago
5:30am – Gear check opens
5:30am – Start corrals open
7:20am – Wheelchair Start
7:22am – Handcycle Start
7:23am – Athletes with Disabilities Start
7:30am – Wave 1 Start
8am – Wave 2 Start
Bank of America Chicago Marathon 27th Mile Post-Race Party
Grant Park, Butler Field
9am – 3:30pm
Street Closures