GreenRiver starts smooth and finishes strong.
GreenRiver isn't your typical Irish pub. In fact, it would be tough to label it as a pub at all, though the bar's Irish influence is noticeable in its foundation. With a cutting-edge philosophy and a contemporary twist on the traditional taproom, it's no surprise that Thrillist has named GreenRiver one of the Best New Bars in America.
Of course, it helps to have people behind the establishment that know what they're doing. Sean Muldoon and Jack McGarry, the guys who brought you Dead Rabbit and the Best Bar in the World, joined forces with Union Square Hospitality's Danny Meyer, and the trio opened the bar in September of last year.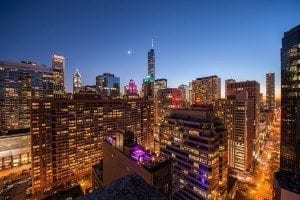 The review does mention some of the bar's quirkier elements (you arrive there via an old hospital building), but notes that you quickly overcome these while staring out at the beautiful view of the city. With a large helping of progressive mixology and a smattering of old school Irish elements, the bar itself feels like a well-mixed drink.
Here's an excerpt from Thrillist:
"You could spend quite a while thumbing through the lengthy drink menu, deep with nods to local history and ingredients that don't necessarily sound like your typical cocktail go-tos: black trumpet mushrooms? Beets? Mascarpone cheese? You could also spend a while waiting to find out if the chance you took on a cheese-infused cocktail was worth it. The good news is, the answer is generally a resounding 'yes.'" – Matt Lynch, Deputy Editor
You're gonna want to check this one out if you get a chance. Give it a go next time you're in the Streeterville area checking out the new and improved Navy Pier.
Photos via GreenRiver