Chicago's most treasured musical celebration returns this September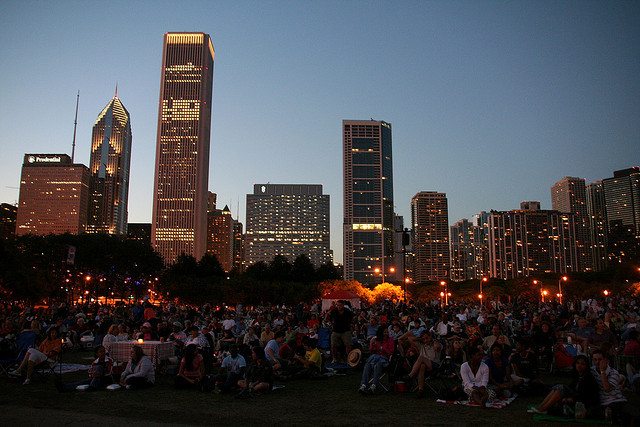 This Labor Day weekend, Chicago Jazz Festival will return to Millennium Park to entertain, educate, and dazzle a massive audience of all ages. With an extensive lineup that showcases all variations of the genre, it's sure to be an impressive cultural experience.
This festival has had fingers snappin' since 1979. Get ready to snap yours at this year's edition.
Where It's At
While the first day of the fest offers performances at the Chicago Cultural Center, the rest will take place in gorgeous Millennium Park at 201 East Randolph Street. It's a busy area, so biking or ride sharing is recommended. If you're taking the CTA, stops at Randolph/Wabash, Monroe, and Washington will take you within blocks of the park. For drivers, the Millennium Park Garages are conveniently located underneath the park.
Entry Rules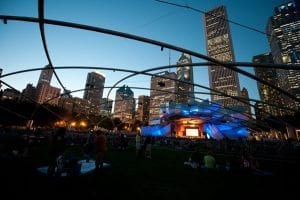 Admission to the Chicago Jazz Festival is free! Can you believe it? All ages are welcome to attend the rain or shine event. Folding chairs, blankets, and picnic baskets are safe to bring. Grills, fireworks, tents, and beach umbrellas are not. Check out our Millennium Page page or the City of Chicago's website for more info on park rules.
What to Wear
As of late, early September weather in Chicago tends to stay pretty warm. Shorts, tank-tops, t-shirts, and sundresses are recommended to stay comfortable. In case it gets brisk into the evenings, bring a light sweater. We're hoping for clear skies, but it's always smart to pack an umbrella too.
What to Do
Listen to jazz, of course! Aside from the showcased performances, the event organizers are offering plenty of other programs and activities, such as free piano concerts on August 29 and 30 to preview the fest, and opportunities to tour the best jazz clubs in Chicago. Feel free to purchase refreshments at the concessions tent.
Where to Stay
Millennium Park is a prime attraction for hotels, as a handful are located right across the street. Essex Inn, Fairmont Chicago Millennium Park, and Congress Plaza Hotel are all very close options that offer incredible views of Millennium Park, Grant Park, and Lake Michigan.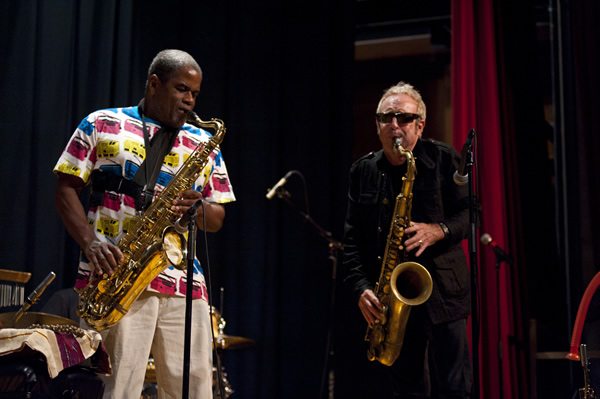 Lineup
Thursday, September 1
Chicago Cultural Center: Dan Trudell Trio; Eric Schneider / Pat Mallinger Quintet; Charlie Haden – Rambling Boy (film and Q&A)
Millennium Park – Jay Pritzker Pavilion: Brown in Bronzeville Effect with Maggie & Africa Brown; Orbert Davis' Soul Migration
Friday, September 2
Von Freeman Pavilion: James Sanders Proyecto Libre; Magic Carpet; Greg Rockingham Quartet; Brian Carpenter's Ghost Train Orchestra
Jazz and Heritage Pavilion: John McLean – A Tribute to Charlie Christian; Edwin Daugherty Sextet – Chicago Legends, the music of Gene Ammons, Johnny Griffin and Eddie Harris; Pharez Whitted Quintet
Jay Pritzker Pavilion: Brian O'Hern and the Model Citizens; Tarbaby featuring Nasheet Wait, Orrin Evans and Eric Reed with special guest Oliver Lake; Benny Golson Quartet; Charlie Haden's Liberation Music Orchestra conducted by Carly Bley: For Charlie
Saturday, September 3
Harris Theater Rooftop Terrace: Lenart Jazz Combo and Harold Washington Elementary School Jazz Combo; Jones College Prep Jazz Combo; Whitney Young Magnet High School Jazz Combo; Curie High School Jazz Ensemble; Pritzker College Prep Jazz Ensemble; Kenwood Academy Jazz Ensemble
Von Freeman Pavilion: Steve Schneck Quartet; Alyssa Allgood Quintet; Chris Greene Quartet; Victor Garcia Organ Septet
Jazz and Heritage Pavilion: Luke Malewicz Heritage Quartet; Nate Lepine Quartet; JD Allen Trio
Jay Pritzker Pavilion: Tatsu Aoki's MIYUMI Project featuring Tsukasa Taiko, Jon Jang & Francis Wong; Eric Alexander / Harold Mabern Quartet; Anat Cohen Quartet; The Bad Plus perform Ornette Coleman's SCIENCE FICTION with Tim Berne, Ron Miles & Sam Newsome
Sunday, September 4
Harris Theater Rooftop Terrace: Alexis Lombre Quintet; Joel Ross' Good Vibes; Hanging Hearts; Foster Meets Brooks Big Band
Von Freeman Pavilion: Kendall Moore Octet; Charles Rumback Sextet; George Fludas Quartet; Barry Altschul's 3Dom
Jazz and Heritage Pavilion: Erwin Helfer Solo Piano; Norman Simmons Trio; Doreen's Jazz New Orleans
Jay Pritzker Pavilion: Michael Zerang & The Blue Lights; Christian Scott aTunde Adjuah; John Scofield / Joe Lovano Quartet; Candido Camero's 95th Birthday Celebration featuring M.F. Production's Latin Jazz All Stars Featuring: Candido Camero, Steve Turre, Nestor Torres, Sammy Figueroa, Frankie Figueroa, Elio Villa Franca, Yunior Terry, Diego Lopez, Jorge Castro and Guido Gonzalez
Are you going to the Chicago Jazz Festival? Tell us about it below!