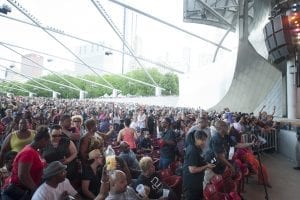 Millennium Park is hosting yet another free event that's perfect for summer, and this one's all about paying tribute to an internationally-acclaimed genre that was born right here in our city.
On Saturday, May 27 from 2pm – 9pm, local DJs will gather for live performances at the Chicago House Party, a celebration of the revolutionary dance music genre that has influenced artists since the 1980s, when DJs like Frankie Knuckles introduced it to the world.
Presented by the Chicago Department of Cultural Affairs and Special Events, there's more to the Chicago House Party than, well, the party. A House Music Conference will be held at the Chicago Cultural Center in the days preceding the music event that includes seminars and discussions on the genre for artists, industry professionals, and music aficionados.
Whether you're old school and prefer the disco-laced house music of the 80s or you're a young'un who gets down to more recent subgenres like deep house and acid house, this all-ages event is great for anyone who loves Chicago music.
Chicago House Party Schedule
Millennium Park, Saturday, May 27
Jay Pritzker Pavilion
2pm – 3:30pm: Julius The Mad Thinker
3:30pm – 4:30pm: Anthony Nicholson
4:30pm – 5:30pm: Terry Hunter
5:30pm – 6:30pm: DJ Pierre Live PA Hybrid Set
6:30pm – 6:45pm: House Music Award presented to Vince Lawrence
6:45pm – 8pm: House Legacy Project featuring special guests
8pm – 9pm: Maurice Joshua
North Chase Promenade Tent
2pm – 2:45pm: House Dance Workshop with Boogie McClarin
3pm – 4pm: Chicago Skyway
4pm – 6pm: First Lady & The Queens of House
6pm – 7pm: DJ Jes
7pm – 8pm: DJ RP Boo
House Music Conference Schedule
Chicago Cultural Center, Thursday and Friday, May 25 – 26
Thursday, May 25
11am – 3pm / Claudia Cassidy Theater: House Legacy Project Open Rehearsal
6pm – 7:30pm / Washington Room: Gender/Sexuality/Generation: Evolving Attitudes and Making Safe Spaces in House Culture
6pm – 7:30pm / Claudia Cassidy Theater: House Preservation: Cultivating the Next Generation of Practitioners
8pm – 9pm / Washington Room: Sound of the City: Ableton for House Music
8pm – 9pm / Claudia Cassidy Theater: Music Publishing and Digital Distribution
Friday, May 26
6pm – 7:30pm / Millennium Park Room: Drum Machines to Laptops: The Evolution of House Music
6pm – 7:30pm / Washington Room: The Business of House Music: Labels, DJs, and Merchandise in the New Economy