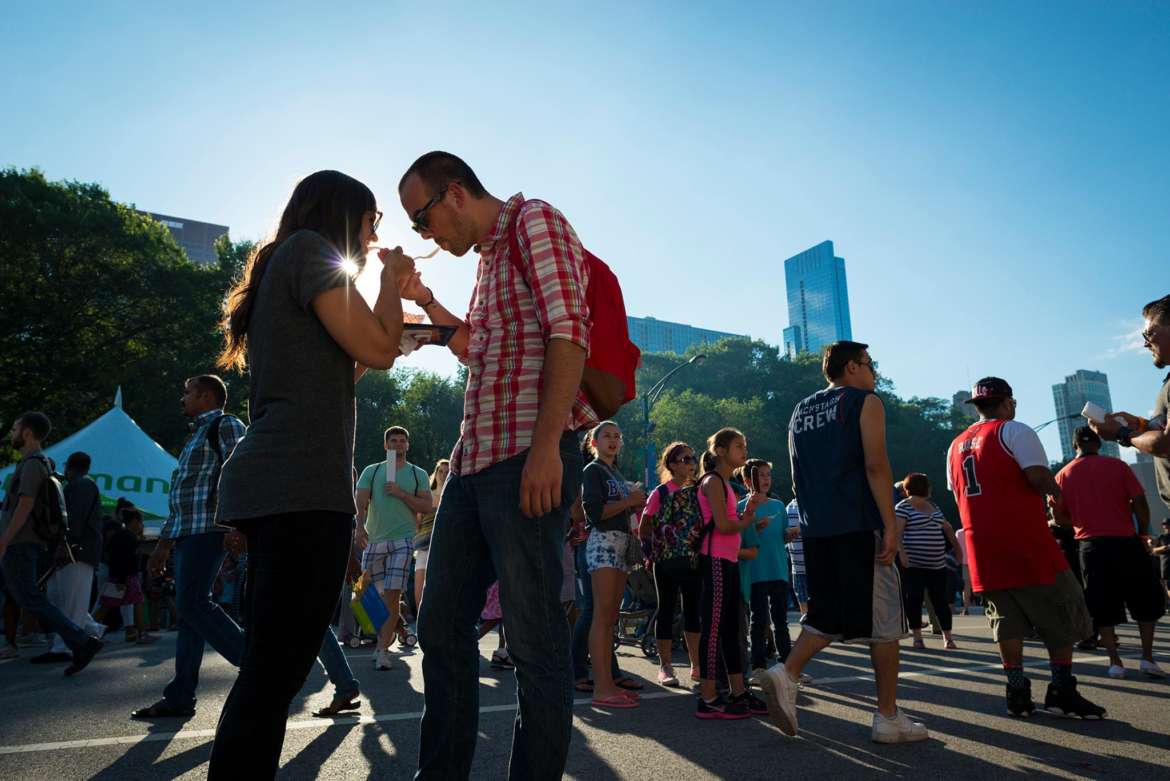 Taste of Chicago 2019: World's Largest Food Festival
The world's largest food festival is back at Grant Park for its 39th year in the Chi. Buy tasting tickets and sample some of the best food around town at Taste of Chicago 2019, while a killer lineup ends the night with a bang.
Peep the full lineup of restaurants participating in Taste of Chicago!
Petrillo Music Shell Stage Lineup:
Wednesday, July 10, 5:30pm
Courtney Barnett
Sunflower Bean
Thursday, July 11, 5:30pm
Bomba Estéreo
Cultura Profética
Friday, July 12, 5:30pm
De La Soul
Taylor Bennett
Saturday, July 13, 4:30pm
The Strumbellas
lovelytheband
Joywave
Sunday, July 14, 4:30pm
India.Arie
Meshell Ndegeocello
Bilal
Taste of Chicago 2019 will also host a variety of free concerts at the Goose Island Stage.
Wednesday, July 10
Noon–1pm – Katie Kadan (R&B)
1:20–2:20pm – The Feeders (Rock)
2:40–3:40pm – Rachel Sarah Thomas (Alt/Folk)
4–5pm – Mother Nature (Hip Hop)
5:20–6:20pm – ODE (Rock)
6:20–8pm – DJ Mike P (DJ Set)
Thursday, July 11
Noon–1pm – RJ Collins (R&B)
1:20–2:20pm – Carpacho y su Super Combo (Salsa)
2:40–3:40pm – AMI (Soul/R&B)
4–5pm – The Ivy Ford Band (Blues)
5:20–6:20pm – Raii and Whitney (R&B)
6:20–8pm – DJ Mike P (DJ Set)
Friday, July 12
Noon–1pm – Avantist (Rock)
1:20–2:20pm – Bella Button Band (Country Rock)
2:40–3:40pm – Afinca'o (Salsa)
4–5pm – John The Author (Hip Hop)
5:20–6:20pm – The Right Now (Pop)
6:20–8pm – DJ Mike P (DJ Set)
Saturday, July 13
11–11:40am – DJ Mike P
Noon–1pm – Karlye Lapetina (Pop)
1:20–1:40pm – Coda (R&B)
1:50–2:20pm – Superstar Patience (R&B)
2:40–3:40pm – Tatiana Hazel (Electro/Pop)
4–5pm – Kaeyra (Pop R&B)
5:20–6:20pm – Nia Kay (Hip Hop)
6:20–8pm – DJ Mike P (DJ Set)
Sunday, July 14
11–11:40am – DJ Mike P
Noon–1pm – VO (Hip Hop)
1:20–2:20pm – Jamiah Rogers (Blues)
2:40–3:40pm – Year of 11 (Alt R&B)
4–5pm – Oston (Pop)
5:20–6:20pm – Solow Redline (Hip Hop)
6:20–8pm – DJ Mike P (DJ Set)
Photo Credit: Taste of Chicago
Hourly Schedule
Wednesday, July 10 - Friday, July 12
Saturday, July 13 & Sunday, July 14