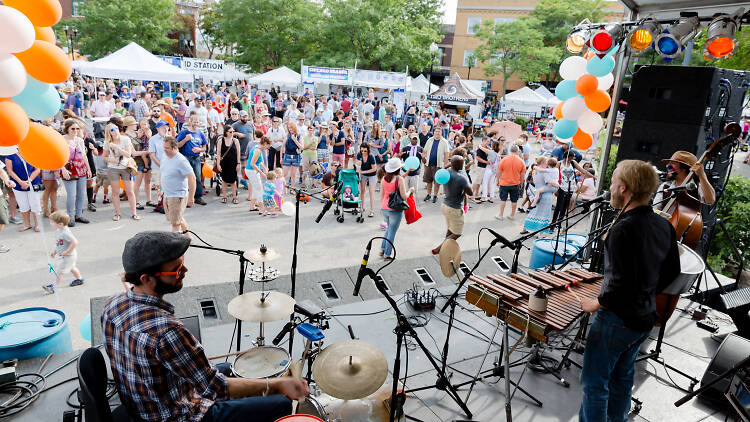 Square Roots Festival
The Lincoln Square Ravenswood Chamber of Commerce (LSRCC) and Old Town School of Folk Music (OTSFM) present the 8thAnnual Square Roots craft beer and music experience in Chicago's historic Lincoln Square neighborhood. More than 30,000 fans attend Square Roots each year to enjoy local craft brews (including special batch and limited release taps), the Brew Lounge specialty tap tasting booth, fabulous cuisine and the diverse entertainment that only the Old Town School of Folk Music can offer. Fans will love the new components and surprises!
Square Roots provides a comfortable and inviting multidimensional experience for all ages that appeals to music, food, and craft beer enthusiasts.
Live entertainment: 70 acts including music, jams, dance and family activities on 4 stages (2 indoor and 2 outdoor).
Craft Beer: Distinctive selections from Chicago and regional craft breweries.
Cuisine: Eclectic fare from amazing Lincoln Square and Ravenswood restaurants.
Local Market: Unique products and fine art from regional vendors and retailers.
Suggested donation $10 for Adults, $5 Seniors/kids, $20 for Families.
Friday, July 12 from 5 – 10pm
Saturday, July 13 from 12 – 10pm
Sunday, July 14 from 12 – 9pm
4400 – 4560 N Lincoln Avenue (from Wilson to Montrose), Chicago
Proceeds from Square Roots benefit small business workshops and community place-making efforts and fund the Old Town School of Folk Music scholarship programs.
Photo Credit: TimeOut