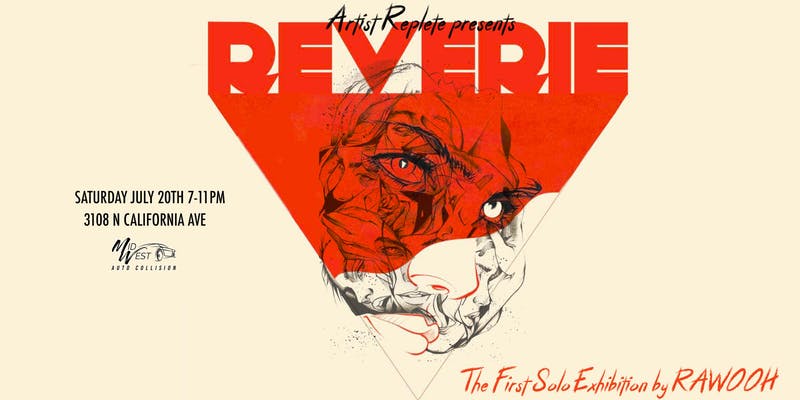 Reverie: First Solo Exhibition by Chicago Street Artist Rawooh
Chicago graffiti artist Rawooh brings enchanting works of art to life at his first solo exhibition "Reverie", curated by Artist Replete.
Rawooh has long been a part of the Chicago graffiti scene. You may have seen some of his pieces painted on walls all over the city, often depicting women's faces accompanied by poetic phrases like "Hell Is Full Of Lovers."
An emerging platform that represents artists from all over the world, Artist Replete lives by the slogan, "Some traditions were made to be broken." That's why Rawooh's solo exhibition won't take place at your traditional art gallery, but at Midwest Auto Collision, surrounded by a collection of antique and luxury vehicles.
This will allow Rawooh to truly produce transformative work and even, rumor has it, paint a stunning masterpiece on an exotic car!
This FREE event will give you the chance to explore unique works of art by street artist Rawooh.
rev·er·ie /ˈrev(ə)rē/ (noun) – a state of being pleasantly lost in one's thoughts; a daydream.