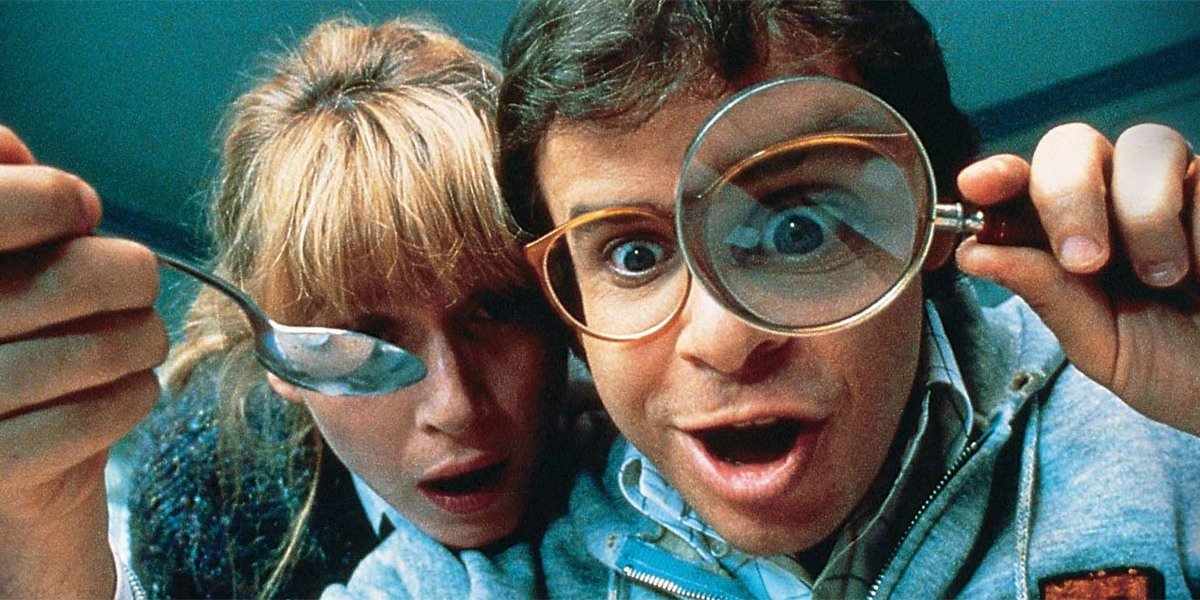 Honey, I Shrunk The Pop-Up
The Sixth – the acclaimed Lincoln Square cocktail bar from The Fifty/50 Restaurant Group – will transform into "Honey, I Shrunk The Pop-Up": a Honey, I Shrunk The Kids inspired pop-up bar on Wednesday, August 26 and will end its run on November 1.
The pop-up bar's theme is based on the trilogy of the "Honey" movies: Honey, I Shrunk the Kids (1989), Honey, I Blew Up the Kid (1992), and Honey, We Shrunk Ourselves (1997) starring Rick Moranis as Wayne Szalinski – the scientist whose experimental shrink ray miniaturizes his own kids and his neighbor's kids in the first movie.
"Honey, I Shrunk The Pop-Up" will feature 14 movie-inspired specialty cocktails that are all named after famous lines and characters from the "Honey" trilogy from The Sixth's new bar manager Stella Miller. Miller was most recently the opening "head bartendress" of Michelin starred Yūgen and worked there for eight months.
The Sixth – located at 2202 West Lawrence Avenue in Lincoln Square – will be the "Honey, I Shrunk The Pop-Up" bar every day of the week from are 4pm until 11pm Sunday thru Friday and 2pm until 11pm Saturday thru Sunday. There will be 10 outdoor sidewalk patio seats, and 20 inside seats to comply with the City Of Chicago's 25 percent indoor capacity regulations. Operating hours Reservations must be made thru The Sixth's website (https://www.thesixthbar.com). Guest reservations are limited to 90 minutes.
The entire outdoor façade and indoor cocktail bar space will be decked out in oversized décor, large-scale movie scenes, and socially-distant photo opportunities including six-foot tall toy dinosaurs that make the pop-up bar a truly immersive experience where the guests feel "shrunk".
Miller's 14-strong "Honey, I Shrunk The Pop-Up" specialty cocktails are priced between $9 and $16, are broken down into three sections (Stirred; Shaken; Highballs, Oddballs, & House Drips), and include Honey, I Shrunk The Kids artwork-inspired custom ice cubes made from The Sixth's in-house Clinebell Ice Block Machine. Most of Miller's "Honey, I Shrunk The Pop-Up" cocktails will be available for guests to purchase to-go in about two weeks. The full in-house cocktail menu is at the end of the press release.
A cocktail highlight from Miller's "Shaken" section is "Dad, Don't Eat Me!" which is a spiced milk rum punch riff made with Plantation 3 Stars Rum, Honey Nut Cheerios house-infused cereal milk, and house toasted oat syrup. The cocktail is topped with a magnifying glass and caramelized Honey Nut Cheerios. As guests drink the cocktail the custom ice cube reveals Wayne Szalinski's children stuck in his Honey Nut Cheerios cereal bowl screaming "Dad, Don't Eat Me!" from one of the movie's most iconic scenes.
A cocktail highlight from Miller's "Stirred" section is "Mr. Thompson's Reprieve" which is a more complex riff on a Rob Roy with tobacco-smoked Johnnie Walker Black Label Scotch, Carpano Antica, and Regan's Orange Bitters served in a Budweiser beer can. The cocktail's inspiration is from the movie's Russell Thompson Sr. character that sneaks outside to smoke cigarettes when he's stressed out. One of Mr. Thompson's lit cigarette butts becomes the torch for the shrunken kids to guide them at night while they stuck in the yard.
A cocktail highlight from Miller's "Highballs, Oddballs, & House Drips" section is "Shrink Ray" which is an upscale vodka-soda riff made with hibiscus house-infused vodka, Crème De Violette, and carbonated on the fly behind the bar via The Sixth's Perlini Carbonation System. The violet-hued cocktail also contains edible glitter and shimmers to mimic the shrink ray's powerful and colorful blasts from the movie.
The Fifty/50 Restaurant Group executive chefs Chris Teixeira and Nate Henssler created a whimsical food menu of small bites. Food menu highlights inspired from scenes and quotes of the movie are oatmeal cream pie cookies, sliders, and "I Could Eat A Corndog The Size Of A Truck!" which features housemade corndogs and fries served in the back of a large toy dump truck. The full food menu is at the bottom of this press release.