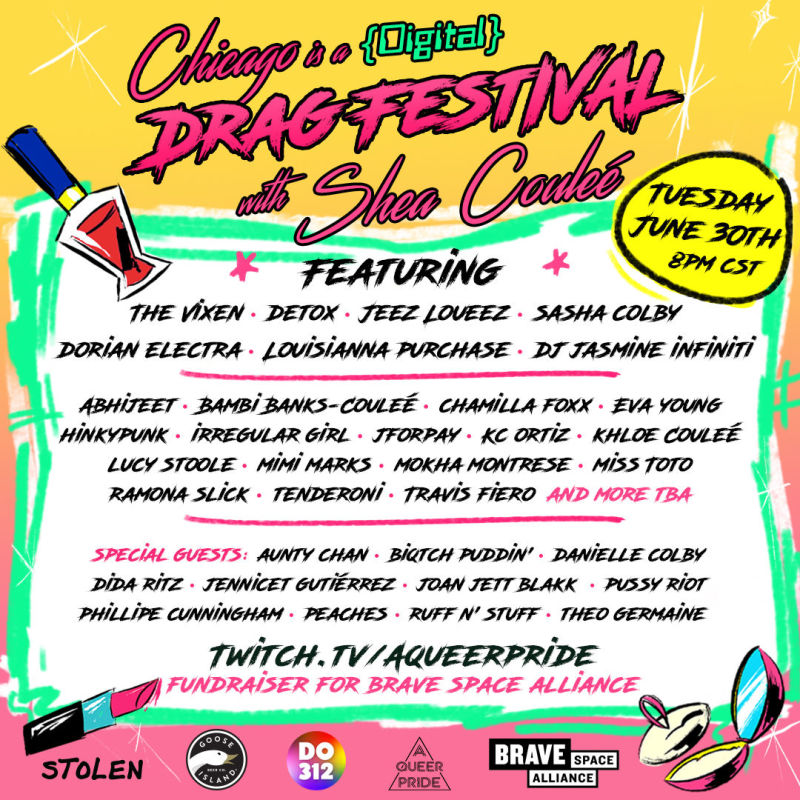 CHICAGO IS A DIGITAL DRAG FESTIVAL
TUESDAY, JUNE 30 2020
A QUEER PRIDE, STOLEN, & Shea Coul-Alé PRESENT:
CHICAGO IS A DIGITAL DRAG FESTIVAL 2020

BENEFIT FOR BRAVE SPACE ALLIANCE
8PM CST ON WWW.TWITCH.TV/AQUEERPRIDE
STARING:
Shea Couleé (RuPaul's Drag Race S9 + All Stars 5)
FEATURING:
The Vixen (RuPaul's Drag Race S10) • Detox (RuPaul's Drag Race S5 + All Stars 2) • Jeez Loueez (Voted #1 Drag Figure in the World // the Honey Badger of Burlesque) • Sasha Colby (Nightgowns) • Dorian Electra • Louisianna Purchase (Dragula S3) • DJ Jasmine Infiniti
Abhijeet • Bambi Banks-Couleé • Chamilla Foxx • Eva Young • Hinkypunk • Irregular Girl • JForPay • KC Ortiz • Khloe Couleé • Lucy Stoole • Mimi Marks • Mokha Montrese • Miss Toto • Ramona Slick • Tenderoni • Travis Fiero • and more TBA
SPECIAL GUEST APPEARANCES:
Aunty Chan • Biqtch Puddin' (Dragula S2) • Danielle Colby (American Pickers + Danny Diesel) • Dida Ritz (RuPaul's Drag Race S4) • Jennicet Gutiérrez (Familia: TQLM) • Joan Jett Blakk (San Francisco) • Pussy Riot • Phillipe Cunningham (Minneapolis City Council)  • Peaches • Ruff N' Stuff • Theo Germaine (Work in Progress + the Politician)
For any inquiries please contact Scott Cramer (scott@cramerpr.com)
Special thank you to our partners Goose Island Shea Coul-Alé Gay.Do312 and Stolen Whiskey
About Chicago Is A Drag Festival:
Chicago Is A Drag Festival is the first-ever outdoor festival in Chicago that showcases an intersectional look into its drag culture and scene. CIADF represents the past, present and future of Chicago drag, emphasizing its diversity in race, gender and sexuality.
CIADF made its debut in June 2019 in commemoration of 50 years of Chicago Pride and the 50th anniversary of the Stonewall Riots.
About A Queer Pride:
A Queer Pride is a collective of seasoned professionals from Chicago's nightlife landscape, working together to celebrate Pride throughout the year.
A combined effort between Abhijeet, Bambi Banks-Couleé,  JForPay and Scott Cramer, A Queer Pride actively seeks to provide a platform to marginalized and underrepresented members of the LGBTQ community in a political climate that needs these voices to be heard even louder.
Featured Image Credit: A Queer Pride