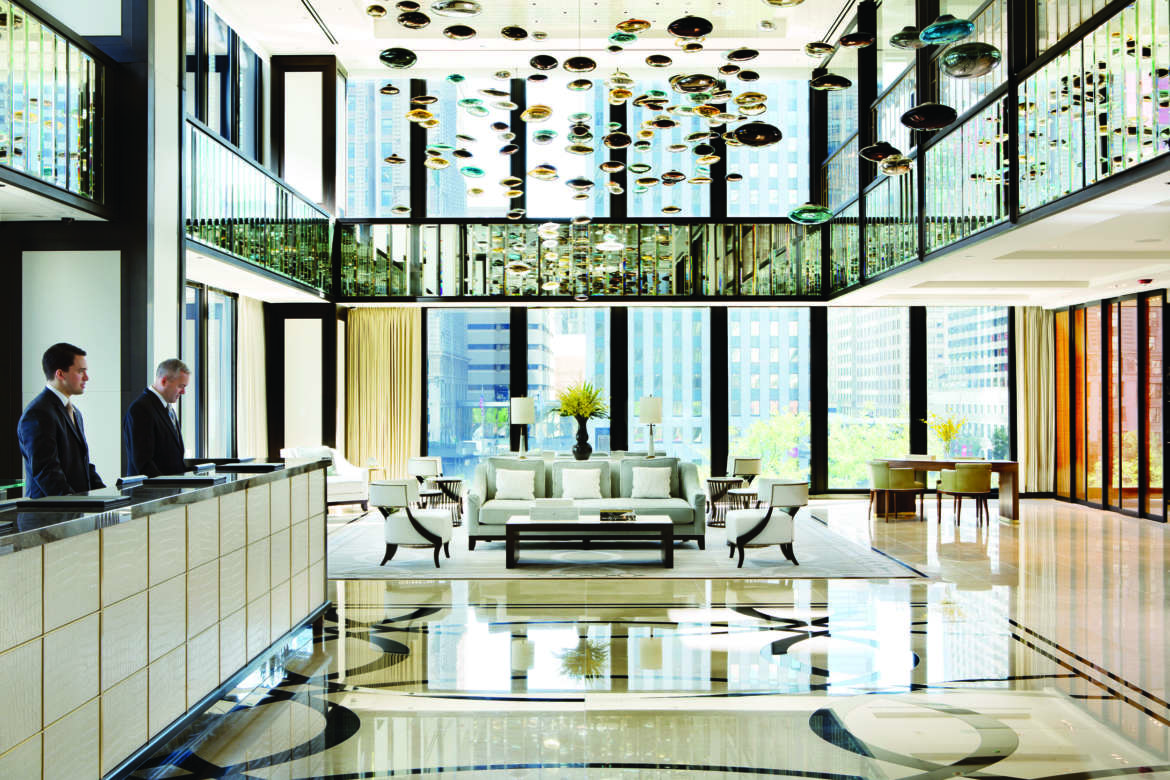 Art-Inspired Dinner & Tour at Travelle
As a result of the success of a recent, sold-out event, Travelle at The Langham presents an art-inspired dinner with art tours throughout the hotel. On Wednesday, October 30 at 5:30 p.m., Travelle offers an opportunity to experience art in a number of ways throughout one evening. The hotel, which resides within the landmark, 52-story riverfront AMA Plaza, has a strong connection to art, with various works on display throughout the building. The Langham, Chicago was designed by the renowned architect Ludwig Mies van der Rohe. The architect's spirit is especially prevalent in the hotel's ground-floor lobby, which was designed as a tribute by his architect grandson Dirk Lohan.
The event commences with guests arriving at the bar and enjoying a cocktail from Travelle's art-inspired cocktail collection. This imaginative cocktail menu creatively transforms famous artwork into delicious and beautiful cocktails, such as the Lazing on a Sunny Afternoon cocktail: embodying the simplicity of the season and inspired by Georges Seurat's "A Sunday Afternoon on the Island of La Grande Jatte," this libation blends Belvedere pink grapefruit vodka, lavender syrup, and lime, then topped with prosecco and fresh mint.
For the next portion of the evening, The Langham, Chicago Chef Concierge Philippe Gills leads an exclusive art tour throughout the hotel. Born and raised in Chicago, Philippe draws upon 20 years of luxury hotel experience, oversees the concierge team at the five-star Langham, Chicago, and has a lifelong appreciation for the arts. During the tour, Philippe covers approximately 10 works of art. Some pieces that could be highlighted include Ju Ming's "The Gentlemen," Virginio Ferrari's "Ombre della Sera," Carolyn Ottmers' "Silver Pinecone," Yorko Alexopolous' "Beguiled by Mystery," Jaume Plensa's "Anna," as well as pieces from Peter Halley and Monique Prieto.
Each artist on the tour was intentionally selected based on a few binding principles that interlock the past, present, and future characteristics of the hotel. For example, Bauhaus-style art – which originated in Germany with a unique approach to art, design, and architecture – connects to Mies van der Rohe, as he was the final Director of Bauhaus School in Germany. Additionally, many of the artists have a relationship with Chicago, and this artistic narrative will be explored throughout the tour. Hidden gems paying tribute to the city and special works commissioned especially for the hotel will also be highlighted.
After the tour concludes, guests enjoy a one-of-a-kind, three-course art-inspired dinner with paired cocktails. For the October 30 dinner, the first course – named Autumnal Bounty – offers corn, butternut squash, mole and tomatillo. Pacific Halibut is served for the second course and for dessert, guests enjoy Black Sesame Custard. Paired art-inspired cocktails will be served with each course.
Space is very limited; to make a reservation, please call 312.923.7705
Photo Credit: Travelle