From April 5 – 7, at Columbia College Chicago (1104 South Wabash Avenue), the 9th annual Chicago Comedy Film Festival returns. Packed with original plots, crazy scenarios, and many moments that call for roaring laughter, this year's lineup presents a quirky range of quality work.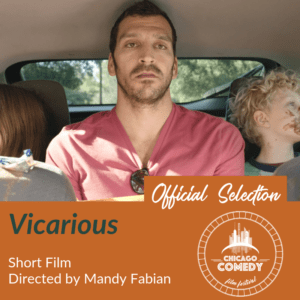 Founded on the incentive to create a space for emerging filmmakers, Chicago Comedy Film Fest provides a vibrant platform for creatives around the globe to network, share ideas and inspiration, collaborate, and more. Seeing how the industry offers very little resources, the fest not only recognizes up-and-coming filmmakers and actors, but they even go the extent of introducing an additional Top Female Filmmaker award, to further encourage women to create. So far, the festival has been a critical success, some films going to showcase on Netflix, and other quality platforms.
This year, the festival will debut over 85 short comedies, within a three-day screening. So, come on out, and watch some wacky films such as Accept | Decline, which centers around a rideshare driver who accepts a few clients from a clown gang, ultimately leading him through a bizarre chain of events. If you're into humor reminiscent of Grace and Frankie, enjoy Anchor Away, a short film about a woman who ironically must work for the girl she used to bully in school. Or, check out Vicarious, a story about a married guy's desperate attempt to live through his best friend, who turns out to be a loser.
Tickets
For single screenings, tickets are $12 for Adults, $55 for a weekend pass, and $27 for Saturday and Sunday passes. Get 60% off ANY ticket with the code UMatter. We've even found you the perfect parking spot, so you don't have to drive in circles when you get there. You're welcome.
Check out the film schedule to pick your favorites and enjoy this trailer of this year's films below!
Featured Image Credit: Krists Luhaers