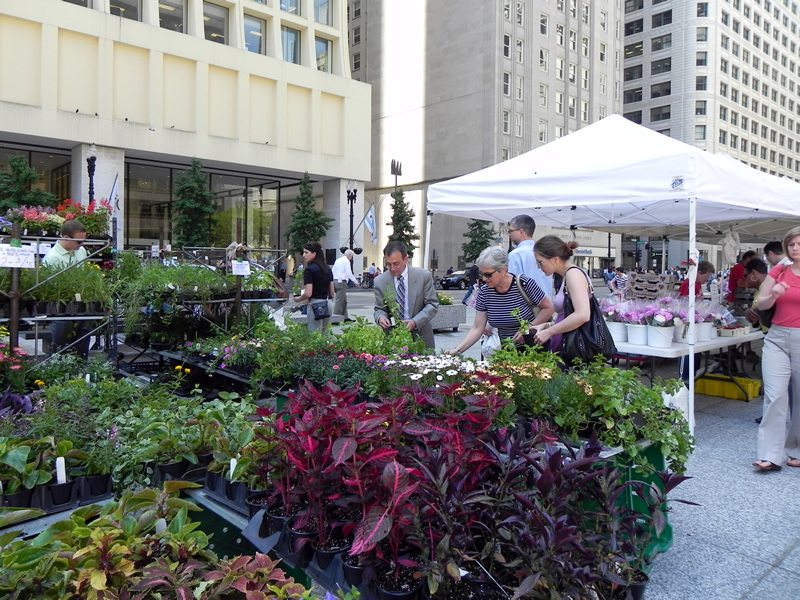 It's that time of year! Chicago City Markets, presented by Country Financial, returns to neighborhoods throughout the city for the spring and summer seasons.
The season kicks off with the opening of the Daley Plaza Market on Thursday, May 11 at 11:30am and the famous Maxwell Street Market on Sunday, May 14 at 7am. These are just some of the more popular markets where you can find fresh seasonal produce, flowers, grab-and-go street food, local handmade products, and rare items.
"Our markets provide residents with access to fresh and healthy food – and unique Chicago-made products and other merchandise – but they also bring communities together, many offering live music and other cultural activities," says Mark Kelly, Commissioner of the Department of Cultural Affairs and Special Events.
All outdoor markets in Chicago are now managed under one program, and the city has made an effort to provide fresh, quality produce to low-income and low-access neighborhoods by instituting seasonal markets in these new areas.
This community-focused initiative has also reached out to Chicago Public Schools, giving students an opportunity to submit designs for bags in the 10th Annual Reusable Bag Design Contest. Created from the theme, "Give, Grow, and Be Green," the winning student's design will be used in city markets throughout the season. The submission deadline is Thursday, April 6 at 4pm.
See the complete list of markets throughout Chicago below:
Sundays
Maxwell Street Market
Desplaines Street and Taylor Street
Year-round, 7am – 3pm
Bronzeville Market
47th Street and King Drive
July 16 – September 10, 8am – 1pm
Tuesdays
Federal Plaza
Adams Street and Dearborn Parkway
May 16 – October 31, 7am – 3pm
Columbus Park
Congress Parkway & Central Avenue
July 11 – September 12, 2pm – 7pm
Lincoln Square
2301 West Leland Avenue
June 6 – October 31, 7am – 1pm
North Lawndale Market
1420 South Albany Avenue
August 29 – October 31, 2:30pm – 5:30pm
Wednesdays
La Follette Park
1333 North Laramie Avenue
July 12 – September 13, 2pm – 7pm
Pullman
111th Street and Cottage Grove Avenue
July 5 – October 25, 7am – 1pm
Roseland Market
109th Street and Wentworth Avenue
August 30 – November 1, 2:30pm – 5:30pm
Thursdays
Daley Plaza
50 West Washington Street
May 11 – October 26, 7am – 3pm
Austin Market
Chicago Avenue and Mayfield Avenue
July 13 – September 14, 2pm – 7pm
Saturdays
Division Street
Division Street and Dearborn Parkway
May 13 – October 28, 7am – 1pm
Englewood/Anchor House
76th Street and Racine Avenue
July 15 – September 16, 8am – 1pm
Lincoln Park
Armitage Avenue and Orchard Street
June 3 – October 28, 7am – 1pm
Printers Row
Dearborn Street and Polk Street
June 17 – October 28, 7am – 1pm