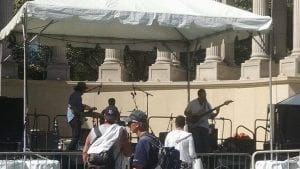 The city of Chicago has a great many things to celebrate when it comes to its heritage, and one of the most prominent of those things is its deep connection with blues music. Since 1984, Chicago has annually held its largest festival to celebrate that rich part of its heritage with the Chicago Blues Festival.
The festival spent its 33rd year hosted at Millennium Park, where for many years prior, it had been at Grant Park. Upon entering, our senses were given the most pleasant greeting, like a warm hug from your grandmother. The sound of passionate, soulful music, the smells of all kinds of delectable Chicago eats, and the sight of so many people enjoying themselves filled the air.
There was definitely no lack of talent on stage this year. There were five stages and dozens upon dozens of artists performing over the course of the weekend, so even if you weren't feeling what was going on at one stage, there were tons of other options. Some of the most notable blues artists that played were Billy Branch and the Sons of Blues, Rhymefest, John Primer and The Real Deal, Nellie "Tiger" Travis, William Bell, Gary Clark Jr., Rhiannon Giddens, Ronnie Baker Brooks, and Theo Huff and the New Agenda Band.
While most of the food booths were fairly standard offerings, if you knew where to look, you could find food trucks with some of the most delicious options. They ranged from pizza, to sausage, to tacos, and more. They were a tad pricey, but that's to be expected at large festivals in the Loop. Regardless, it was worth the money. We tried a German sausage and, personally, it was one of the most savory, heavenly things we've had in a long while.
Something that really stood out to us as we wandered around the fest was the fact that so many people had come together, dancing and enjoying the good music sailing through the air. In an age where we see so much violence and negativity that divides us as a society, it was really heartwarming and encouraging to see so many people having a good time and celebrating music that makes Chicago special, regardless of age, gender, religion, beliefs, etc.
Overall, the Chicago Blues Fest is a wonderful time. Even if you don't buy any food or other souvenirs there's still plenty of fun to be had just from the powerful, soulful music performed by artists who are absolutely thrilled to be there. It's still the world's largest and best free blues festival and it won't be trumped by anything comparable in the foreseeable future. This is one event that you definitely must attend next year.
Featured Image Credit: Gary Clark Jr. via Instagram (@garyclarkjr)