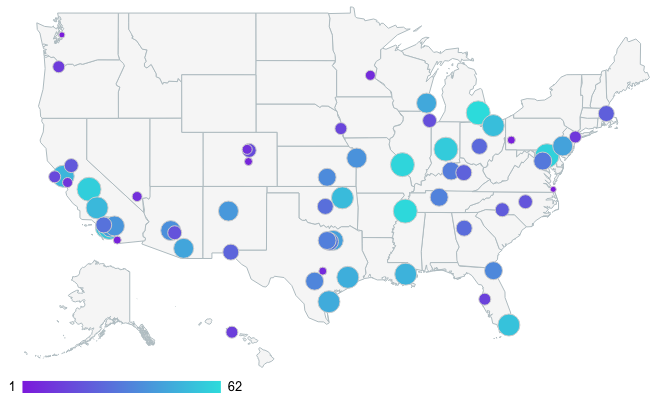 The Windy City never loses steam, as more and more people aim to call it home. In WalletHub's recent study of 2017's Best Big Cities to Live In, Chicago was ranked 18th out of 62 of the nation's largest cities. Chicago is full of amazing job opportunities, restaurants, and entertainment – it's not surprising that it ranked so high on the list!
Large cities are attractive to young and middle-aged professionals simply due to there being more options available. There's more to do, see, and experience. According to the study, big cities are getting even bigger. Large urban areas are growing at twice the rate recorded in the early 2000's. To determine the best big cities to live in, WalletHub compared cities with populations of 300,000 or more according to five key areas; affordability, economy, education & health, quality of life, and safety.
In the individual factors, Chicago came in 48th place for Affordability, 57th for Economy, 23rd for Education & Health, 5th for Quality of Life, and 7th for Safety. These scores landed Chicago at 18th overall.
These individual scores might raise an eyebrow or two. Surprised by any of these scores, or wondering how a particular result came to be? Check out WalletHub's methodology at the bottom of the study.
Here are the other cities that ranked above Chicago in the study:
Virginia Beach, VA

Seattle, WA

Pittsburgh, PA

San Diego, CA

Colorado Springs, CO

Austin, TX

Minneapolis, MN

Las Vegas, NV

Denver, CO

San Jose, CA

New York, NY

Portland, OR

Honolulu, HI

Tampa, FL

Omaha, NE

San Francisco, CA

Aurora, CO
In a separate ranking in the study, Chicago placed in the top five best biking cities, tying with Boston. What do you think of the results from this study? Share your thoughts in the comments.