Our friends at WalletHub recently ranked the best cities in the country to celebrate St. Patrick's Day. Since Chicago is one of the first places that comes to mind when you think of large-scale St. Patty's festivities, we thought we'd definitely rank at least in the top five. Surprisingly, the results were different than we expected.
The study compared 200 of the largest cities in the US and scored them based on St. Patrick's Day traditions, costs, safety and accessibility, and weather forecasts. Some of the factors considered within these score categories included Irish pubs and restaurants per capita, average beer price, and traffic congestion.
After totaling up the scores, Chicago was rather shockingly ranked as only the 14th best city in the nation to celebrate St. Patrick's Day. These were the top three cities:
#1: Buffalo, NY
#2: Madison, WI
#3: Boston, MA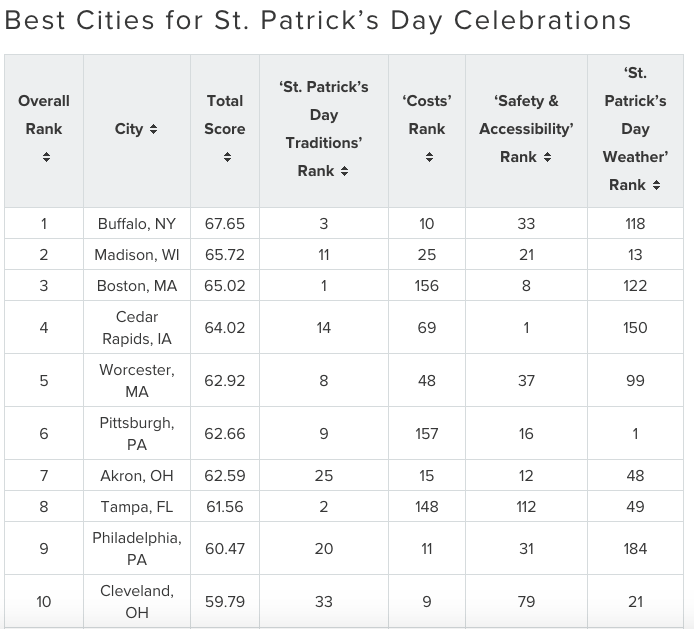 Perhaps even more surprising was the fact that Naperville, IL, just 33 miles southwest of Chicago, ranked in higher at the 11th spot. Additional stats within the study share things like highest percent of Irish population, for which Naperville ranked in second place, which may account for its high rank in the overall study.
Since weather forecasts and costs were score categories in this study, those might have been what drove Chicago's ranking down. Still, we'd expect a city that dyes its river green to get a little more recognition than a measly 14th place. An additional stat on the most St. Patrick's Day parties and festivities per capita did, however, rank Chicago in the top tier.
The study also went on to note that St. Patrick's Day parades actually originated in the States, not Ireland. One of the most populous groups in Chicago are people who claim Irish ancestry, so it makes sense that the city would institute a parade and other festivities. To see the full study, click here.
On that topic, what are you doing this weekend? If you're ready to go green, Chicago-style, check out our comprehensive guide to everything going on in the city for St. Patrick's Day.