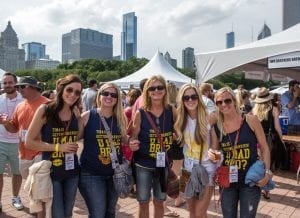 Don't miss out on one of this summer's hottest events, the Chicago Ale Fest. This year's festival will have over 200 American craft beers, food trucks, and live music. It's no wonder this festival is one of the most anticipated craft beer events in Chicago.
So, it's time to get your beer steins cleaned and ready to go, and to kick off summer in Chicago the right way this June 23 and 24.
Where It's At
The Summer Edition of the Chicago Ale Fest will take place in Butler Field at Grant Park, which is located just behind the Art Institute and along Chicago's breathtaking lakefront. What a way to spend a summer day sipping on cold beer and enjoying food from local vendors.
There are, of course, plenty of parking garages nearby, as well as easy access from public transportation. Or, if you are active enough, you can easily get there biking from the lakefront trail.
Entry Rules
General admission tickets are $49, which cover the sampling of over 200 beers, a commemorative festival glass, live entertainment and access to food trucks. There is an early admission ticket option for $59, which provides everything the general admission ticket does, but guarantees you get the first pick of beers before the crowds arrive. Each attendee receives 20 drink tickets each.
There are also tickets available for the people who aren't drinking beer, called designated driver tickets, available for $19 general admission and $24 for early entry, which includes a complimentary craft soda (root beer or ginger ale), water, live music, and access to food trucks.
What To Do
Well, besides sampling some of the best in American craft beer, feel free to chow-down and try a variety of Chicago cuisine provided by the food trucks parked there. Also, get your dance-on with the Dave Matthew's cover band, Trippin' Billies (Friday night) and '80's tribute band The Breakfast Club (Saturday afternoon).
What To Wear
Summer in Chicago can be as unpredictable, as say, this past February in Chicago. Since the fest is near the lakefront, we suggest preparing for the temperature to be about 10 degrees cooler. A tank top and shorts with a light sweater might be okay for the ladies, and men can pretty much wear t-shirts and shorts as well. It's a casual fest, a lot of drinking and eating to be done, so no need to get too fancy here!
Timeframes
June 23, 2017
Early Admission
6pm – 10pm
General Admission
7pm – 10pm
June 24, 2017
Early Admission
2pm – 6pm
General Admission
3pm – 6pm
Food Lineup
Grumpy Gaucho, Happy Lobster, Izakaya Yumi Sushi, Mimi's Chicago Humble Pie, Rogue Curbside Kitchen, Roaming Hog, Sausage Fest, The Roost Carolina Kitchen, The Slide Ride, Taurus Flavors
Beer Lineup
5 Rabbit, 2 Fools Cider, 51st Ward Beer Company, Around The Bend, Baderbrau, Banging Gavel Brews, Begyle Brewing Co., Blue Nose Brewery, Bold Dog Beer Co., Brickstone, Bucketlist Brewing, Burnt City Brewing, and Church Street
Featured Image Credit: Groupon