Keep your eyes on the sky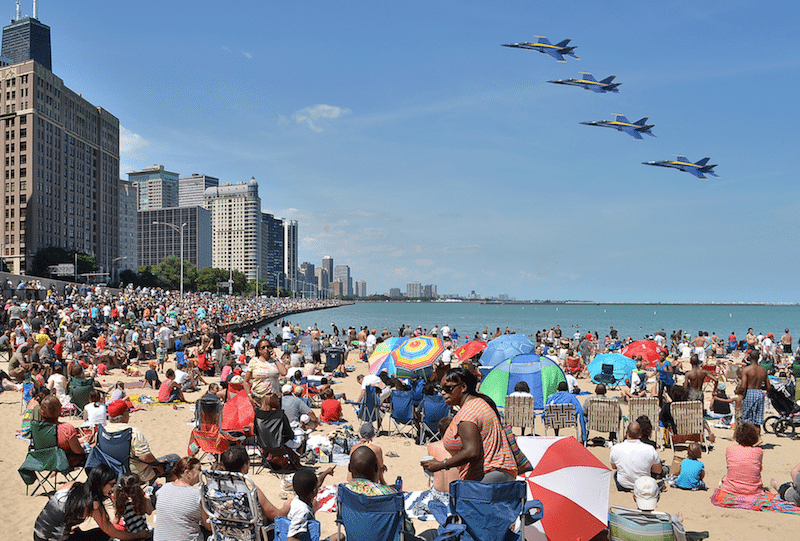 It's back! This weekend, Shell Oil Productions U.S. and the City of Chicago present the 58th annual Chicago Air and Water Show.
If you're the kind of person that loves watching action-packed thrillers but doesn't want to risk doing it yourself, this is a show that you'll truly enjoy. We're sure you've seen it before. (If you haven't, where have you been?)  The Chicago Air and Water Show has been gathering millions of people along Lake Michigan to watch thrilling aviation experts for over fifty years. This event used to be a part of "Family Day Celebration" back in 1959, but now it's a show all its own and, not to mention, the largest free show in the United States.
Returning to the Chicago Air and Water Show is Herb Hunter, a.k.a. 'the voice' of the show. Herb has been the announcer for the show for over 20 years and he is great at keeping the crowd informed, engaged, and entertained.
If you're looking for a great way to end your summer, the Chicago Air and Water Show is the perfect way to do just that. Gather with family and friends and experience an unforgettable show, but don't forget to bring your lawn chairs and beach blankets. If you can't make it outdoors this weekend, you'll surely hear the planes roaring by if your home or office is in the Loop! Take a peek outside your window to try and catch this spectacular performance.

Where
North Avenue Beach
1600 North Lake Shore Drive
Chicago, IL 60613
When
August 20-21, 2016
10am – 3pm
*Keep in mind that rain is in the forecast for Saturdays show
Headlining Performers
Military Teams
Additional Performers
Military Teams
S.A.F. F-16 Fighting Falcon
S. Navy F-18
C-130 Hercules
P-51 Mustang
S. Coast Guard HC-144A Ocean Sentry
S. Coast Guard MH-Dolphin Helicopter
Civilian Teams
AeroShell Aerobatic Team
Aerostars
Sean D. Tucker & Team Oracle
Bill Stein Airshows
The Firebirds Delta Team
Matt Chapman Airshows
Susan Dacy in the Super Stearman Model 70
Warbird Heritage Museum Foundation A-4 Skyhawk Jet Tac Demo
Chicago Fire Department Air/Sea Rescue