It's no secret that the people of Chicago just can't get enough cheese. With our glorious deep dish pizzas and our proximity to neighboring Wisconsin, the current world champion of cheese, there's never a shortage of restaurants and events celebrating the pure bliss that is cheese.
One restaurant reigning in Chicago's cheese trade is Cheesie's Pub & Grub, where one can experience the most innovative of grilled cheese sandwiches, paired with an ale of your choosing. You can check out the thriving cheese pub chain in both Chicago's Lakeview and Wicker Park neighborhoods. If you're lucky, maybe you'll even catch their traveling food truck somewhere in the Loop on your lunch break. The chain also features locations in Evanston and Gurnee to accommodate cheese-lovers outside city limits.
Those seeking a toasty cheese sandwich reminiscent of their favorite lunch growing up would be most satisfied with "The Original" as their menu selection. The accompanying tomato soup dipping sauce completes the ultimate nostalgic childhood lunch staple —though it may lack the slight burnt taste from the ones Mom made.
Outside of "The Original," expect a lineup of sandwiches composed with creative ingredients you might never have imagined before. "The Tenderizer" is sure to please more adventurous, meat-loving foodies. Packed with cheddar, mozzarella, bacon, and chicken tenders, it also features just the right amount of hot sauce and Sweet Baby Ray's to pack the ultimate flavor punch.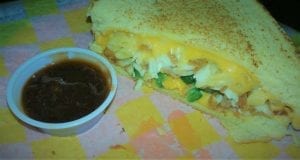 Cheesie's also has a secret menu, filled with hidden gems. These contributions come from the restaurant's most loyal customers, like Marta Krauz, 27, of Burbank. Though Marta hails from the south suburbs, she makes the trip to Cheesie's in Lakeview at least once a week— usually Mondays for trivia night. This loyal customer has even earned her own secret menu selection: "The Marta." Stuffed with mac and cheese, fried chicken, and jalapeños, it's served with a side of BBQ sauce to amplify the variety of flavor contents between two slices of toasted white bread.
Whether you're seeking a new venue to grab drinks and snacks during the game, or just fighting a craving for some well-crafted comfort food and craft beer, or both— Cheesie's Pub and Grub continues to boast the most unique grilled cheese menu you'll find throughout the entire city. Cheeseheads and craft-beer lovers alike will not be disappointed.
Featured Image Credit: Cheesie's via Instagram