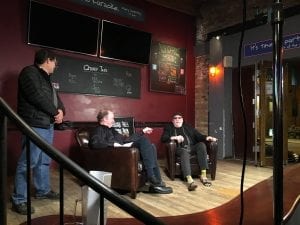 What's more Chicago than pizza, beer and rock royalty all under one roof? You probably recognize Rick Nielsen as the legendary lead guitarist of Cheap Trick, the Rockford-born Rock and Roll Hall of Famers that gave us "I Want You to Want Me" and "Surrender." Sure, you've seen him shred a five-neck guitar, but did you know Nielsen also owns Wicker Park hot spot Piece Brewery and Pizzeria?
The North Avenue pizza joint is known for house-brewed beer as killer as its creative pies — think three different styles (red, white and New Haven) with toppings like clams or "Hot Doug's famous Atomic sausage." They've also got chocolate pizza for dessert, a Nielsen favorite featuring Nutella and mascarpone cheese.
Wednesday night, Nielsen sat down with Chicago Tribune music critic Greg Kot at Piece for "Cheap Talk," a public Q&A hosted to raise funds for WBEZ radio. Conversation weaved from Piece's garage dirt-floor beginnings, to the moment Nielsen knew he was born to perform: starring in a production of "The Barber of Seville" at three years old. It probably didn't hurt that he was born to two opera singers, either. Compared to his loud and wacky Cheap Trick performance wardrobe, Nielsen's outfit for the event was pretty tame, until you caught a glimpse of his footwear — a multi-colored slipper-sock combo. Some things never change.
Of course, it would be impossible to sum up 40-plus years of Cheap Trick via hour-long Q&A, but Nielsen talked about experimentation with sound and style, his songwriting process and playing everywhere from bowling alleys to Japan's Budokan with Queen. He also mentioned the band's upcoming record "We're All Alright!" which Kot assured is a "kick-ass rock album." Look for that release this June.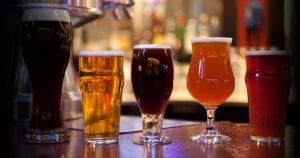 If you didn't know Nielsen had stake in Piece, you could probably guess by looking around. Guitars and Cheap Trick memorabilia hang on the walls, right alongside a slew of awards. Yes, let's not forget Piece's other claim to fame: beer. The brewpub has won dozens of awards from both the Great American Beer Festival and the World Beer Cup for its home brews like the "Dysfunctionale" and "Dark n Curvy Dunkelweizen," both of which are on tap right now. You can even take home a growler, or if you're lazy, order it for delivery with your next pizza.
So if you're looking for a not-so-typical sports bar, pizza haven, rock 'n' roll brewery, Piece is the place. You might get lucky and catch Nielsen there grabbing a bite to eat or taking the stage for Saturday night, live-band karaoke, in which case, you should probably get up there and request "Dream Police."