2017 has been quite the year for Chance the Rapper. Seemingly in headline after headline almost every couple of weeks, the young rapper has been front and center in the pop culture sphere.
There's been no shortage of blessings for Chance, with three historic Grammy Award wins, rapid momentum in his social activism and philanthropy, and an impressive touring schedule for the year (he's literally going to be everywhere).
Not even a week after celebrating his 24th birthday at Studio Paris, Chance received another gift. He was recognized as a pioneer in TIME's annual list of the 100 most influential people of the year. A word from fellow Chicago rapper Common said, "Chance upends expectations about what artists, especially hip-hop artists, can do." After recalling a time years ago when he gave an encouraging phone call to Chance when he was a kid, he said "I'm glad Chance followed his dreams. I hope he always does."
As someone who's not only successful in music, but also being someone who's more connected with his community than any other Chicago rapper, or perhaps even any rapper ever, this title is definitely deserved on his part. Not too shabby for someone in their mid-twenties.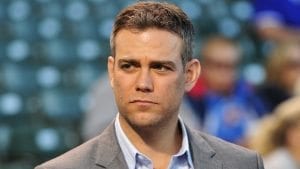 Also of note, another Chicagoan made the coveted list. Recognizing figures as pioneers, artists, leaders, titans, and icons, Theo Epstein, the President of the Chicago Cubs, was listed as a leader in TIME's 100. As an iconic name in both Chicago and Boston sports, the outcome of the 2016 World Series solidified his legacy. A heartfelt word from fellow Chicagoan and Cubs fan John Cusack, who was in the dugout when they took the World Series, carried the weight of the historic moment, "Thank you. And thank you from my father."
Congrats to these legendary locals on being one of many amazing people who've made a difference in our world.
Featured Image Credit: DJBooth