Located at the north entrance of the Lacuna Artist Lofts at 2150 South Canalport Avenue, Café Lacuna is a great place for breakfast, brunch, or coffee on-the-go.
Small but familiar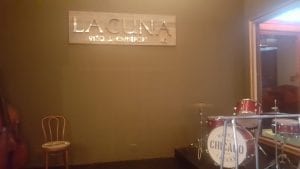 Quaint is the best word to describe the place. Cushioned benches, wood flooring and marble tables provide a trendy look, especially with indoor string lights hung up around the ceiling. Having been open for more than a month, the café is still relatively empty during the late mornings and afternoons. However, this worked well to give the place an almost homey feel.
Not to mention, the great service that consisted of one cashier, one cook and one barista created a friendly, intimate atmosphere. Amidst the center of the café is a large bar area where the kettle-boiled bagels and hand-rolled croissants are made, which is open and visible to guests. Although the outdoor patio was relaxing and appealing, the view to a gated parking lot does not reflect the interior beauty of the place.
Bagel bonanza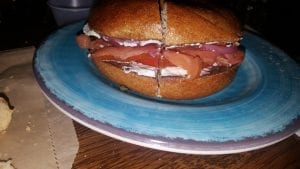 With a limited menu of baked goods and hot drinks, there was at least a good variety of bagels and croissants. Bagel offerings included sesame, poppy, wheat, cinnamon raisin and jalapeño cheddar. Selection for croissant types were more limited, but ranged from chocolate, house-made almond cream and a combination of both. Cream cheeses to compliment the bagel (or croissant) also came in giardineria, garlic chive and honey nut. Other spreads like nutella, peanut butter and house-made strawberry were also available. For those looking for more filling choices, there were two breakfast sandwiches to choose from: The Bageler or The Fisherman.
The Fisherman was by far the better of the two. This sandwich came with the bagel of choice, plain cream cheese, smoked salmon, capers, fresh tomato and house pickled red onion.
Chewy and delicious, The Fisherman had freshly cut, flavorful salmon, especially when complimented with the veggies and cream cheese.
Sweet selections to sip
Their espresso and coffee choices may not rival other caffeine-oriented shops, but their freshly brewed style is still impressive. Iced coffee and drip coffee selections are also quite cheap, ranging from $2 to $4 per cup. Their lattes are some of the more plentiful choices that are just as affordable. These ranged from the iced tea latte to the salted caramel latte, which were all flavorfully different in their own way.
The next best early bite
For those looking for something simple but appealing, look no further than Café Lacuna. Even after a good brunch, patrons can take a leisurely walk through the first and second floor of the Lacuna Artist Lofts, which features sculptures, murals and other works. As quiet as it was, the quality and atmosphere will likely attract more customers in the next couple of months.
Before the place is flocked by tourists and coffee aficionados, check it out for a memorable time.
Featured Image Credit: Café Lacuna via Facebook