Chicago's sixth C2E2 Comic and Entertainment Expo was held successfully once again at the McCormick Place convention center, spanning three action-packed days (March 18-20) with some of the Midwest's best and brightest of Geek & Fandom.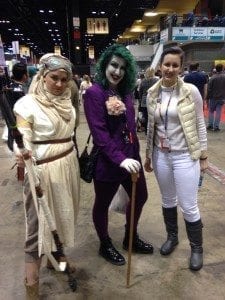 McCormick Place is the biggest convention center in North America, and C2E2 in all its splendor certainly takes advantage of the expansive area at its disposal. The main floor is jam-packed full of vendors, viewing areas, food kiosks, statues and replicas, photo areas and lines upon lines of fans waiting to meet their heroes. As you look around you can't help but notice all the familiar faces in the crowd – people dressed up in all stages of cosplay bringing your favorite comic book, movie, and TV show characters to life from DIY to professional levels. You might ask a very convincing Batman to stop for a photo just as an adorable little girl whizzes past, dressed as Star Wars' BB-8 on roller skates. Stepping back for a moment and taking it all in is a big part of convention life, and it gives you a moment to reflect on what a positive environment these avid fans create.
C2E2 is, at its most basic level, a celebration of passion and creativity. The artists, the celebrities, the cosplayers, the collectors, and the fans all congregate for three fantastic days to share the joy and love they have for art. It's an inclusive community that invites you to express yourself, and the camaraderie you feel just walking into the mass of convention people is palpable. You could walk up to someone in the crowd wearing a Wolverine shirt and say, "Hey I like Wolverine too!" and you'd probably receive a high five and a friendly chat – one that might prove never-ending depending on what you and your new friend are both into. Negativity is simply not present at C2E2.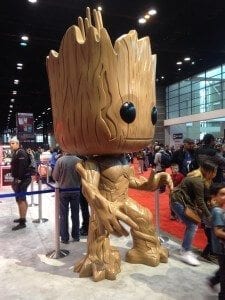 C2E2 offers something for everyone, adults and children alike. Meetups for specific groups of fans like Disney fans or Pokemon fans (neither of which are age-specific), The Cosplay Championship for competitive cosplayers, speed dating for single convention goers of the geek/nerd persuasion, celebrity meet and greets, theme song sing-alongs, and panels and screenings – and that's just the afternoon schedule! Personally, it was our mission to meet Mike Mignola, creator of Hellboy, and see his panel about the universe of his fandom and what's in store. We also witnessed a harrowing Super Smash Bros. Melee Tournament full of impressive skill on old-school tube TVs connected to the console games we all know and love. And of course we severely abused our wallets while meandering the array of booths.
Dodging through the crowd of people and fantasy figures alike, there's a never-ending supply of things to look at, look through, and to buy from companies and collectors. Then you can take a turn at Artist's Alley and walk down row upon row of tables set up by artists (many of which were local to Chicago) displaying their amazing works. When you notice Obi-Wan Kenobi pass by eating a fantastic ice cream cone, you will be inclined to find some food and sit down at any table next to anyone and meet a potential new friend in the process. Inevitably you'll make a trip to the washroom and discover that convention washrooms are a fascinating glimpse into the world of cosplay and what goes on behind the costumes!
Some of the spotlight celebrity guests this year included Austin St. .John, TV's original Red Power Ranger; Chloe Bennet of Agents of S.H.I.E.L.D.; mixed martial artist CM Punk; Edward James Olmos of Battlestar Galactica; John Ratzenberger from Cheers; Rose McGowan of Charmed; comics legends Mike Mignola, Mark Waid, and Chris Roberson; and Chicago's own John Cusack. And that's only the tip of the iceberg!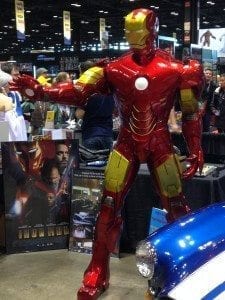 Since next year's C2E2 already has its dates set for April 21-23, 2017, don't hesitate to sign up for the newsletter to keep track of next year's events and special guests. Maybe even start working on that cosplay outfit you've always wanted, or start reading that comic book series you've been eyeing up! We're so lucky to have such a wonderful and expansive convention right here in Chicago annually and we cannot recommend highly enough that you take full advantage of it.