In just under two short weeks, McCormick Place will be crawling with cosplayers and attendees of the annual C2E2 convention. There will be photo opportunities with previous cast members of Doctor Who, a Clueless reunion that includes Paul Rudd, panels filled with some of the top entertainers from books to wrestlers, and rows of Artist Alley just waiting to pique your interest.
While all of the magic happens from Friday, March 22nd through Sunday, March 24th, the festivities start as early as Thursday, March 21st in a wave of pure nostalgia with Animaniacs Live!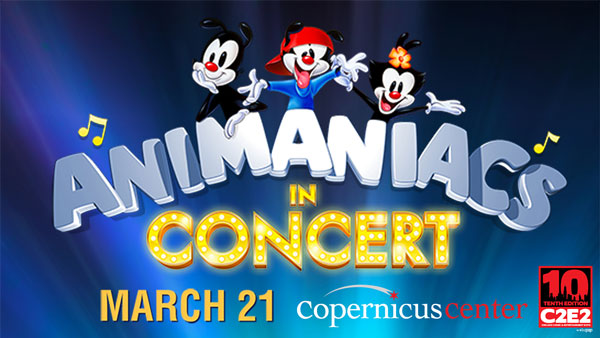 The event will be a musical review that will take place at 8 pm at the Copernicus Center on W Lawrence Avenue. It will star the voice actors of the original and well beloved animated series, Rob Paulsen (Yakko), Jess Harnell (Wakko), Tress MacNeille (Dot), and Maurice LaMarche (The Brain).
The cast, along with composer Randy Rogel, will perform a string of hits that '90s kids will remember fondly and will absolutely love singing along with! In addition to the musical side of things, the cast will also share stories and anecdotes that are sure to please any fan of the show or of entertainment in general.
Animaniacs Live! is sure to be a night of good-hearted fun for the whole family or just your group of friends! Whether you're in for the nostalgia or just interested in a night of zany comedy, this is the event for you!
For more ticket information, visit the C2E2 website, and make sure to find nearby parking, since McCormick Place can get pricey!