When you think Chicago, "farm fresh" isn't exactly the first phrase that comes to mind. Well, Lincoln Park has a new eatery that's about to change all that.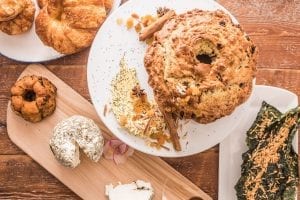 From the team that brought you Chicago q and Blue Door Kitchen and Garden, Ideology Entertainment presents Blue Door Farm Stand, the prodigal son eatery returning to Lincoln Park this Friday after a two-year hiatus. The restaurant, which originally opened in 2014 and closed a year later, operated as take-out only in the interim. But the new location at 2010 North Halsted Street, a rehabbed yoga studio complete with signature blue door and shutters, offers a two-floor, airy dining space, more expansive menu and in-house baking program. Walking in is like being welcomed into an immaculate country home that serves comfort food and also happens to have a full bar. And don't even ask if the drinks are served in mason jar-esque vessels, because of course they are. Even the sleek martini glasses are country-chic and look like they hold the distant memory of once housing your great grandma's famous rhubarb preserves.
The best part of Blue Door, though, is the concept behind it. The restaurant supports small, sustainable farms and ensures a fresh and responsibly sourced eating experience. The regionally inspired menu showcases ingredients from operations like Herban Produce and Swingbelly Farms in Illinois, Nueske's in Wisconsin, Ellis Family Farms in Michigan, and Blue Door's namesake farm in Indiana. Their philosophy is simple: Let the seasons dictate what's on the plate, and keep the mileage between farm and table as small as possible.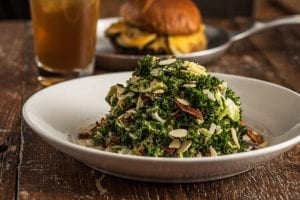 Ideology Entertainment Executive Chef Rey Villalobos has created a menu that boasts some serious diversity. There are Blue Door staples like the Brussels and kale salad with bacon, toasted almonds and maple tahini dressing, and new additions like a tofu, mushroom pho. Breakfast offers smoked salmon served on a toasted bagel with charred tomatoes and caper cream cheese, and lunch presents the "Bikini Sandwich," which piles manchego cheese, serrano ham and pepper jelly on a brioche bun. Dinnertime: Snack on Blue Door's addictive fried cheese curds before inhaling the down-home fried chicken sliders slathered with hot sauce aioli and pickles. S'mores brownies are for dessert. Is your mouth watering yet? You're welcome.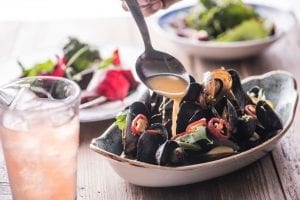 Don't worry, brunch-lovers, Blue Door didn't forget about you. Weekend options like melt-in-your-mouth crab cake benedict, chilaquiles or berry-stuffed french toast will cure any and all Sunday scaries. As for Sunday fun day, the wine and beer list is top notch, and signature cocktail "Eastern Promises" combines Pimm's, Bombay Sapphire, chai syrup and ginger beer to deliver you straight to boozy heaven. And for all of you coffee snobs, baristas at Blue Door sling lattes from a La Marzocco. Praise the espresso gods — you can always tell a great restaurant by their espresso machine, in our humble opinion.
So take a quick trip to the country in Lincoln Park. For its rustic wood floors and iron chandeliers, bright upstairs atrium and locally sourced, fresh ingredients, you can bet the farm we'll be dining at Blue Door.