Owner Rocky Wirtz hopes to grow hockey in the Chicago area.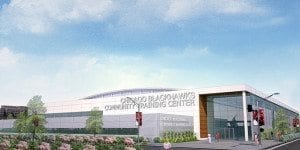 Hockey is a relatively expensive sport to play. There's ice time, travel expenses, skates, pads, sticks, and all sorts of other gear that needs to be purchased just to step out onto the slick playing surface.
The Blackhawks are looking to put an end to that.  After submitting their plan to the city last month, the organization has received approval from the Plan Commission to move forward with a brand new 125,000 square-foot community center for youth hockey, adult rec leagues, and Blackhawks practices. Visiting NHL teams may also use one of the rinks for practice purposes.
The Chicago Blackhawks Community Center, as it's being called, will cover four acres, with two ice rinks available for community use 94% of the time. The two-story training center will be built over the existing Malcolm X College building at 1801-1853 W Jackson, right next to the United Center.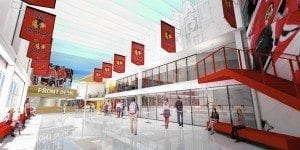 Beyond that, the facility will feature a 217-spot parking lot, green roof, seating for 300 spectators at both rinks, locker rooms, and concessions. The Blackhawks currently practice at Johnny's Icehouse, where many of the city's leagues and youth development programs also play. The demand for ice time has become so great that many people have struggled to see the rink, and it hasn't gone unnoticed.
"Any kid that wants to 'Be Like Mike' can go down the street and shoot hoops," said Blackhawks owner Rocky Wirtz. "It's a little tougher if a kid wants to be the next Patrick Kane or Jonathan Toews. We're thrilled to make this investment in our community and give more kids the opportunity to learn to skate and play this great game."
The privately-funded facility figures to be completed in November 2017. It will cost the city $8 million to tear down the old Malcolm X building, but the Blackhawks and Rush Medical (who will also be moving in) will pay $24 million for the land, netting the City of Chicago a sizable $16 million sum.

The Blackhawks originally announced the practice center back in July. You can view their announcement on the team's official site.