A new study concludes that the Chicago Blackhawks have the most loyal fans.
Fanatics, a global leader in licensed sports merchandise, analyzed NHL teams' social media following, arena occupancy, and jersey sales. Guess which team came out on top?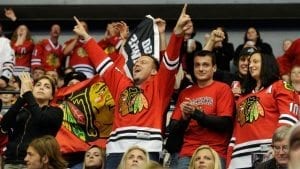 The Chicago Blackhawks have more followers on Facebook (2.99 million), Twitter (2 million) and Instagram (1.1 million) than any other team in the NHL. They also have the most jerseys sold and have sold out more home games than any other team. Fun fact: jerseys for Blackhawks players Jonathan Toews and Patrick Kane are among the most popular in the NHL.
Yes, we are amazing, but we've had our hard times. In 2004, ESPN named the Hawks the worst franchise in professional sports because we hadn't won the Stanley Cup since the 1960's. Oh, how things have changed. The Hawks made their comeback by winning three Stanley Cup titles in five years and made history by having four players named to the NHL All-Star Game.
Blackhawks fans also LOVE to travel to watch their favorite team. In an attempt to keep Blackhawks fans away, the Nashville Predators have refused to offer single-game tickets to Predator-Blackhawks contests and they have even required tickets to be purchased locally and in person. Better luck next time Predators!
Basically, Hawks fans are awesome… but we already knew that. We have won six Stanley Cup titles since 1926, after all.
How do you show pride for your the Blackhawks? Let us know down below!