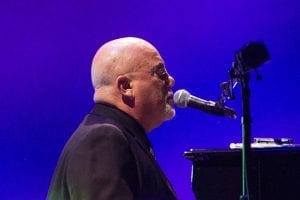 Billy Joel opened his concert on Friday at Wrigley Field with a confession. He told the faithful at the Friendly Confines that he did not "having anything new to play." But that didn't prevent Joel from selling out Wrigley Field for the fourth straight year. The reason being that nobody wanted anything new from Joel; the crowd just wanted him to the play the hits.
And boy did he.
Billy Joel played for two and half hours and ripped through 29 of his best tunes which the loyal fans knew every lyric. He wisely stuck to hits from his most prolific period: the 70s and 80s.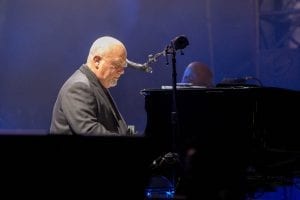 He even let the fans in on choosing the set list. Playing off the baseball motif, he offered the crowd a few "fielder's choices" in which he named two songs and, by way of loud cheers, the crowd chose which one the band played. Which led to the only downer of the night: the crowd choosing "Vienna" over "Just the Way You Are" (sometime democracy lets you down).
It was impressive to see the band (and crew) adjust to these quick choices. But it shouldn't have been unexpected as the band is a murders' row of musicians. Among them was "utility player" Crystal Taliefero (who basically played every instrument there is: backing vocals, saxophone, harmonica, percussion), drummer Chuck Burgi (who got into the spirit of the night by wearing a Cubs jersey), guitarist Mike DelGuidice (who might have had the best moment of the night when he sang the operatic aria "Nessun Dorma" pitch perfectly). Even with all of these amazing performers on stage the one who stood out was saxophonist Mark Rivera.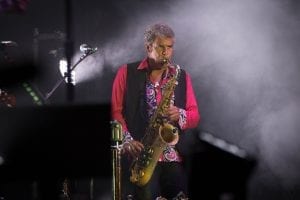 His sax solos were so rich and full of emotion that they took the night and the audience to a much higher level.
Billy Joel, who's 68-year-old, showed no signs of slowing down. He might not be able to jump around on stage anymore, but his fingers can still bang on the piano keys like they did when Joel "wore a younger man's clothes." Joel's piano proficiency is amazing: at times his fingers glided on the keys like a ballet dancer and at other times banged them like a jackhammer. The sound that his piano playing produces is unparalleled.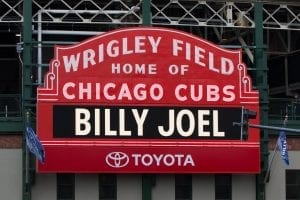 Of course, he ended the set list with "Piano Man" to the delight of the audience, who all put their arms around each other and swayed in unison. The encore included "We Didn't Start the Fire", "Uptown Girl" and the best song of the night: "Only the Good Die Young." Whose title, considering that this is Joel's sixth time playing Wrigley Field, the most of any performer, doesn't make any sense. Billy Joel has endured the test of time because he is that good.
No doubt many in attendance Friday night were already looking forward to seeing Joel at Wrigley again next year.
Photos by K. Joseph Fotos. Full Gallery Here.