Brisket enthusiasts rejoice!
The Big Apple BBQ Block Party returns to the streets of NYC on June 9th and 10th.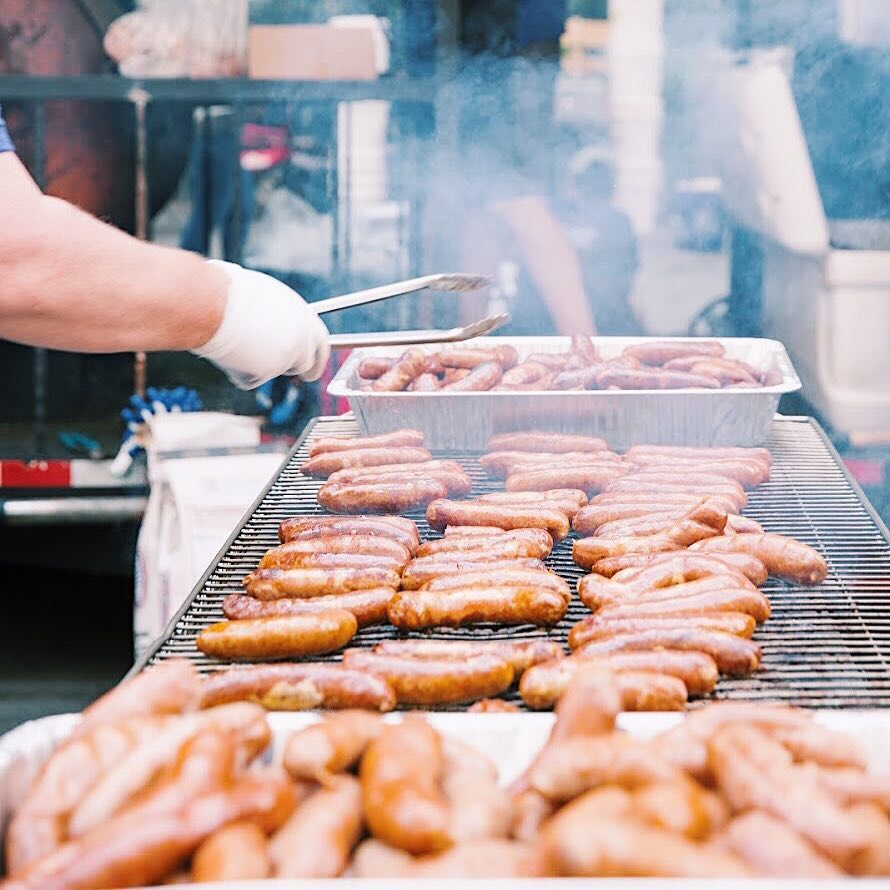 Now in its 16th year, the Big Apple Barbecue Block party is back again to fill New York with the sights – and smells – of America's favorite cookout. Featuring some of the world's most badass pitmasters, the event is one of the country's largest barbecue fests. And yes, that's including Texas.
Founded by Danny Meyer's Union Square Hospitality Group, the two-day foodie free-for-all will take place in Madison Square Park from 11 am – 6 pm. No ticket is needed to attend the public event, but a BBQ plate will cost you around $12.
Grab your towelettes and get ready to chow down, here's the full menu for the Big Apple BBQ Block Party 2k18:
17th St. BBQ
Mike Mills & Amy Mills From Murphysboro, IL
Back Ribs with Tangy Pit Beans
Baker's Ribs
Joe Duncan From Dallas, TX
St. Louis Ribs with Jalapeño Cole Slaw
Big Bob Gibson Bar-B-Q
Chris Lilly From Decatur, AL
World Championship Pulled Pork Sandwich with Spicy Mustard Coleslaw
Dinosaur Bar-B-Que
John Stage & Leland Avellino From New York, NY
St. Louis Ribs with BBQ Beans
Fox Bros. Bar-B-Q
Jonathan Fox & Justin Fox From Atlanta, GA
Brisket & Jalapeño Cheddar Sausage with Jalapeno Slaw & Pickles
Hometown Bar-B-Que
Billy Durney From Brooklyn, NY
Chopped Brisket & Jalapeño Cheddar Link Sandwich with Queso and Tater Tots
Blue Smoke
Jean-Paul Bourgeois From New York, NY
Fried Smoked Chicken with Tabasco-spiked Honey, Broccoli & Black Eyed Pea Salad
Ed Mitchell's Que
Ed Mitchell & Ryan Mitchell From Wilson, NC
Eastern NC Whole Hog Sandwich with Slaw
Hill Country
Ash Fulk From New York, NY
Brisket Sandwich with House Pickle & Coleslaw
Martin's Bar-B-Que Joint
Pat Martin From Nashville, TN
West Tennessee Whole Hog Sandwich with Coleslaw
Memphis Barbecue Co.
John Wheeler From Horn Lake, MS
Baby Back Ribs with Mamma June's Baked Beans
Rodney Scott's BBQ
Rodney Scott From Charleston, SC
St. Louis Ribs with Coleslaw
Skylight Inn / Sam Jones BBQ
Sam Jones From Ayden, NC
Eastern NC Whole Hog Sandwich with Sweet Slaw
The Salt Lick BBQ
Scott Roberts From Driftwood, TX
Brisket & Sausage with Sesame Coleslaw
Ubon's Barbeque
Garry Roark & Leslie Roark Scott From Yazoo City, MS
Mississippi Chicken Wings with Bloody Mary Cucumber Salad
Pies 'N' Thighs
Carolyn Bane & Sarah Sanneh From New York, NY
Mac & Cheese, Spicy Watermelon Salad, Biscuits & Sausage Gravy, and Cornbread. Vegetarian options available
Ample Hills Ice Cream
From Brooklyn, NY
"Corn to Run" – Creamy Corn Ice Cream with Cornmeal Crumble & Blueberry Swirls
Doughnut Plant
From New York, NY
Selection of Seasonal Doughseeds + Doughnuts
Original Fried Pie Shop
From Dallas, TX
Apple, Apricot, Blackberry, Cherry, Peach, Pecan
For more info on the Big Apple BBQ Block Party, hit up their website here.
Featured Image Credit: Big Apple BBQ Instagram